Mamata Banerjee's plea for release of Rs 1 lakh crore
Bengal chief minister meets PM Narendra Modi and seeks speedy disbursal of central funds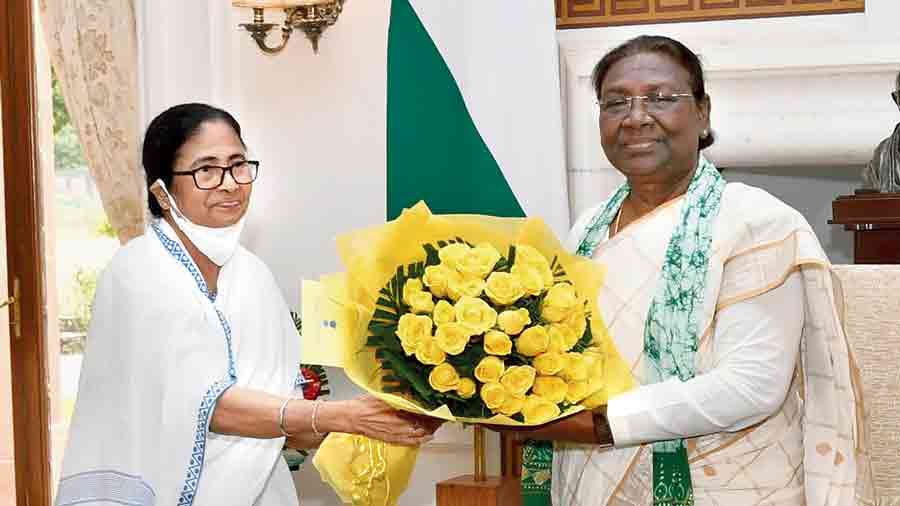 Bengal chief minister Mamata Banerjee with President Droupadi Murmu.
Sourced by The Telegraph
---
Calcutta
|
Published 06.08.22, 01:01 AM
|
---
Bengal chief minister Mamata Banerjee met Prime Minister Narendra Modi for around 45 minutes in New Delhi on Friday afternoon and sought his intervention for prompt release of funds due to Bengal on account of several central schemes, devolution of taxes and disaster relief, which all added up to Rs 1,00,968.44 crore till July 31.
Mamata handed Modi a bouquet of yellow roses, a brown-yellow-black batik-printed uttariya (ceremonial scarf), mishti (traditional sweetmeats) and a three-page document (a two-page letter and a page of the tabulated figures).
Both Modi and Mamata remained mum on what had transpired behind the closed doors of 7 Lok Kalyan Marg. The Prime Minister's Office tweeted a photo of the two, with the bouquet on a table between them, and him wearing the uttariya around his neck.In her letter, Mamata referred to similar letters she had sent to Modi, on May 12 and June 9, underscoring that it was becoming "extremely difficult" for the state government to keep functioning.
"I shall be grateful if the matter is taken up from your kind end with the concerned ministers, so that the funds due to the state are released as soon as possible in the interest of public services," wrote the chief minister, adding how the state government had to incur substantial expenses because of exigencies arising on account of the Covid-19 pandemic, besides major natural calamities.
Mamata stressed the need for release of Rs 6,561.56 crore under the Mahatma Gandhi National Rural Employment Guarantee Act, Rs 9,329.76 crore under the Pradhan Mantri Awas Yojana Gramin, Rs 2,105 crore under the Pradhan Mantri Gram Sadak Yojana, and Rs 15,864.84 crore under the Samagra Shiksha Mission.
"State government is complying with all the directions of the central government. However, funds have not yet been released, thus creating a huge blockade to implementation of the schemes and putting the rural people in great distress," she wrote.
Bengal has not been able to pay wages to the people who worked under the employment guarantee scheme since December last year. Authorities have been facing uncomfortable questions from workers on the dues, whenever attempts are made to start new projects under the scheme.
Nor has the state been getting fresh allotment under the rural housing scheme, under which money is provided to the poor for dwelling units. The Centre has apparently stopped releasing funds under the scheme after BJP lawmakers from Bengal lodged complaints with Delhi, accusing the state government of changing names of many such central schemes in Bengal — allegedly for claiming credit for their implementation.
"I may also add that West Bengal is the frontrunner in the country in executing these schemes," wrote Mamata in her letter to Modi on Friday.
"Another important issue is that very often, funds under the central schemes are released towards the end of the financial year, leading to difficulties in utilisation of funds and timely implementation of the schemes. It would be appropriate to avoid such a situation," she added, going on to highlight uncleared funds for central dues for Cyclone Bulbul (Rs 6,334 crore), Cyclone Amphan (Rs 32,3210.32 crore), and Cyclone Yaas (Rs 4,222 crore), and Rs 17,762.96 crore from devolution of taxes.
After the meeting with Modi, Mamata visited the Raisina Hills to greet India's new President Droupadi Murmu.
During her five-day stay in the national capital this time, the Trinamul chief is likely to be seen with Modi at least on two more occasions — a Rashtrapati Bhavan event on Saturday and the NITI Aayog meeting on Sunday.