Mamata Banerjee warns against bias in cyclone aid
Win hearts, Mamata tells officials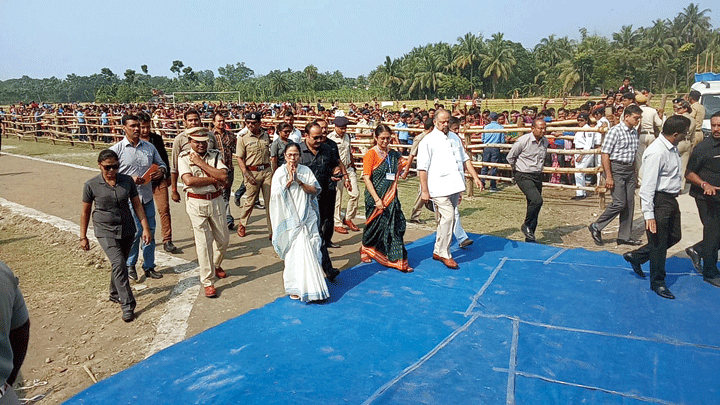 ---
|
Basirhat
|
Published 13.11.19, 07:24 PM
---
Chief minister Mamata Banerjee on Wednesday warned against "politics in distribution of relief material and rehabilitation programmes" for people affected by Cyclone Bulbul.
Addressing a meeting at Basirhat in North 24-Parganas, Mamata made it clear that the state government was working to restore normality in the storm-hit areas at the earliest.
"Traan niye doya korey rajniti korbeyn na. Kon dol na dekhey traan bili korbeyn (Nobody should do politics over distribution of relief material. Relief material should be distributed irrespective of political identities)," the chief minister said.
The meeting followed an aerial survey of Hingalganj, Sandeshkhali and Hasnabad, the worst-hit areas in the district, by the chief minister.
In a meeting with elected representatives later, Mamata declared that her government wouldn't tolerate discrimination over political identities. Sources in the government said the chief minister had made it clear that nobody was deprived in this hour of crisis because of their political loyalties.
"This is a time to win hearts, even those of Opposition supporters. If the chief minister can ensure proper relief to the affected, the ruling party will strengthen its base in this vital part of the state's most populous district," said a minister in the state cabinet.
Sources said the chief minister's warnings and efforts to ensure no bias crept into relief measures came against the backdrop of the BJP's strong foothold in North 24-Parganas where the party bagged two of the district's five Lok Sabha seats this year.
"My assessment is that the cyclone has caused damage in properties of about Rs 50,000 crore. At least 15 lakh hectares of agricultural land was damaged, five persons died (in the area) and seven fishermen are still missing, besides other losses," the chief minister said.
According to preliminary reports, Bulbul battered three coastal districts — North and South 24-Parganas and East Midnapore — the most and rendered around four lakh people homeless.
"Now is the time to conduct surveys, review and take action to restore normality as soon as possible. You have done a great job in minimising losses by taking preventive measures…. I would like other districts to follow your example as a role model in mitigating natural disasters," Mamata told the officials in Basirhat.
The chief minister announced that the district administration would supply books to the students who have lost them in the cyclone. "The district inspector of schools should ensure supply of books to the students," she said.
At the same time, she directed the district administration to supply lantern to the people in the affected areas where restoration of power supply would be delayed. She has urged the officials to work beyond normal hours if required.