Mamata uses mango metaphors to seek support from Malda
In the 2016 polls, Trinamul drew a blank and it was the same in the Lok Sabha polls of 2014 and 2019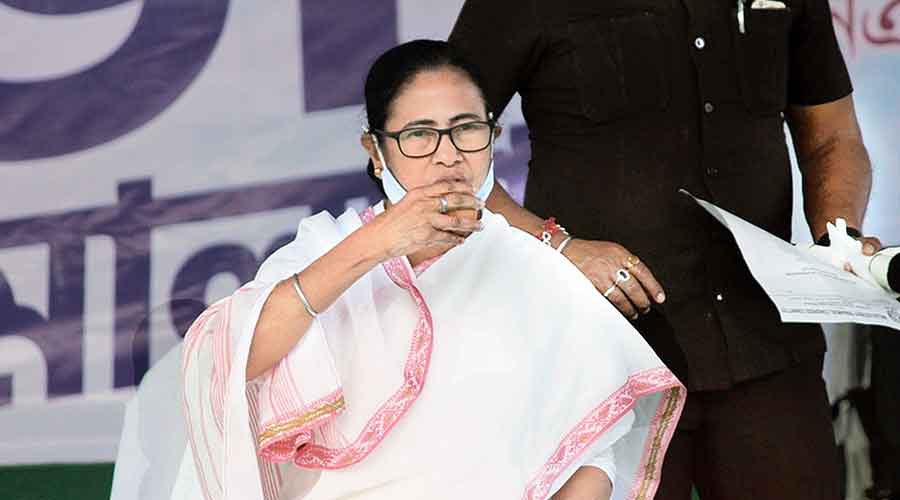 Mamata Banerjee sips tea in Malda.
(Soumya De Sarkar)
---
Malda, Raiganj
|
Published 11.02.21, 02:22 AM
|
---
Chief minister Mamata Banerjee sought refuge in mango metaphors to seek support from the people of Malda, a district famed for the fruit, where Trinamul drew a blank in recent Assembly and Lok Sabha polls.
Mamata, who addressed a public meeting at the DSA Ground of Malda on Wednesday, said: "Malda made us return empty-handed election after election though we have executed many development projects in the district..."
"I would like to ask the Malda residents...will you hand over 'fajli (a popular mango variety)' and 'amsatwa' (a traditional mango candy) to me this time," she said, drawing large rounds of applause from the audience.
Mamata also spoke about neighbouring Murshidabad, a district with minority population of 67 per cent, and said her party could win in two of three Lok Sabha seats there, unlike in Malda.
"Even the BJP grabbed a seat here," she said. "Now that you have elected a BJP MP, I would like to know what the party has done for you so far."
In north Bengal, Malda has the highest number (12) Assembly seats. Back in 2011, when Trinamul had allied with Congress, the party could win in one seat and got a second seat at a bypoll in 2013.
In the 2016 polls, Trinamul drew a blank. It was the same in the Lok Sabha polls of 2014 and 2019.
Mamata, who has largely banked on the minority vote bank here, pointed out that despite such defeats, she chose Mausam Benazir Noor, Malda district Trinamul chief, as a candidate for the Rajya Sabha.
"She is an MP in the Rajya Sabha now. As far as development is concerned, we have carried out a series of jobs, including the bridge over Ganga to connect the Bhutni islet," she said.
Earlier in Raiganj, she took on the turncoats and said their desertion will not impact her party.
"I had assigned some people with responsibilities but they fled for their own interest... it is good that they have gone away. We will continue to work for the people and their absence will not matter to the party in any way," said Mamata at Raiganj stadium.
She alerted the minority community about the All India Majlis-e-Ittehadul Muslimeen (AIMIM) that plans to contest in some minority dominated districts. "The BJP is trying to bring in a party from Hyderabad to divide votes. We should be alert about them," she said.