Mamata Banerjee to launch big-ticket Durga Pujas online
The chief minister cites need for caution amid the rising number of Covid cases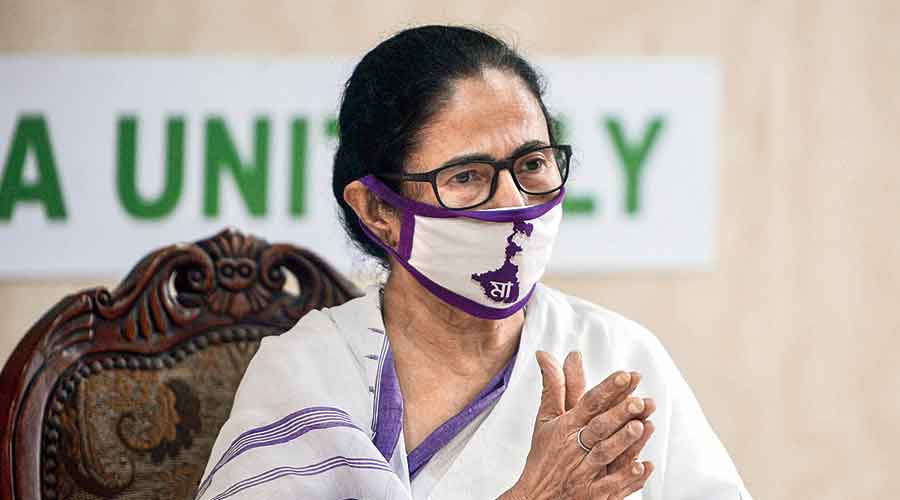 ---
|
Calcutta
|
Published 13.10.20, 01:02 AM
---
Chief minister Mamata Banerjee said on Monday that her Durga Puja inaugurations this year would be done virtually in view of the Covid-19 pandemic — a departure from her tradition of visiting some of the most prominent pujas in Calcutta and connecting with people.
The chief minister, who inaugurated senior cabinet and party colleague Firhad Hakim's Chetla Agrani Puja in the evening, told a news meet earlier in the day that it would be the only one that would not be part of the virtual inaugurations this year.
Mamata said she would inaugurate handpicked north Calcutta Pujas on Thursday, Behala-Jadavpur Pujas on Friday, and some other south Calcutta Pujas on Saturday.
"You know how much I like doing this (read: inaugurating pujas personally), but this year, everything is different…. This is my humble request to all of you. Only for this year, to avoid unnecessary crowding for such events, let's do the inaugurations virtually…. Those who have emailed the chief minister's office, asking for inaugurations, we can get all of them for this, virtually, and get it done," said Mamata on Monday, instructing chief secretary Alapan Bandyopadhyay to oversee the process.
Mamata, who has been inaugurating 70-odd big-ticket pujas — picked from over 10,000 invites — in and around Calcutta for the past couple of years, takes this job seriously in view of the festival's emotive appeal.
Puja activities have been part of Mamata's autumnal routine in a big way since her stint as the Union railways minister in the UPA II regime, when her ascent to power in Bengal was deemed a foregone conclusion.
Most big-ticket pujas in Calcutta and its surrounding areas are conducted by the heavyweights of her party.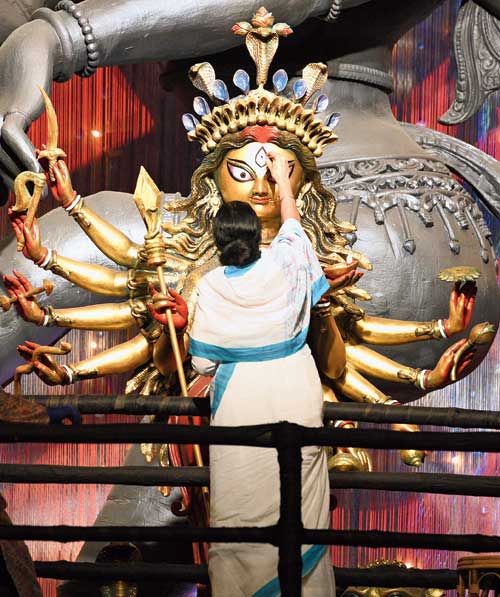 The BJP, despite its stellar Lok Sabha results in the state last year, had tried and failed to erode her hegemony in this domain, despite adding the likes of Union home minister Amit Shah and party national chief J.P. Nadda to the mix.
"Let's do this virtually from Nabanna. I will come and do this from here, on all three days. At 5pm. I have a lot of social activities that I have to undertake during this period, but these three evenings, I am keeping (aside) for this," said Mamata.
"I will sit with a ceremonial lamp here. They will all have their ceremonial lamps at the venues. We will all get together, virtually, and get this done. Only for this year," she added.
A Trinamul leader justified her decision, underscoring the need for safety amid the pandemic.
Till the 2011 "Poribartan", the biggest social festival in Bengal used to see many divides north versus south of Calcutta, theme versus tradition, neighbourhood versus neighbourhood. Since 2011, the greatest "divide" is the one that separates Mamata's trusted lieutenants who vie to make their respective Pujas the biggest crowd-puller.
While some, like Ekdalia Evergreen veteran Subrata Mukherjee, have been in the game since the '70s, others, such as Aroop Biswas of Suruchi Sangha, are the newer heavyweights, having emerged on the scene in the past decade.
"They are all equals...united in the cause of Mamata Banerjee. But every autumn, they turn into fierce competitors, not in politics, but Puja," said the Trinamul leader.