Mamata Banerjee talks GTA elections with hill parties
The GTA elections was getting complicated with TMC allies , the Bharatiya Gorkha Prajatantrik Morcha and the Gorkha Janmukti Morcha flagging their own issues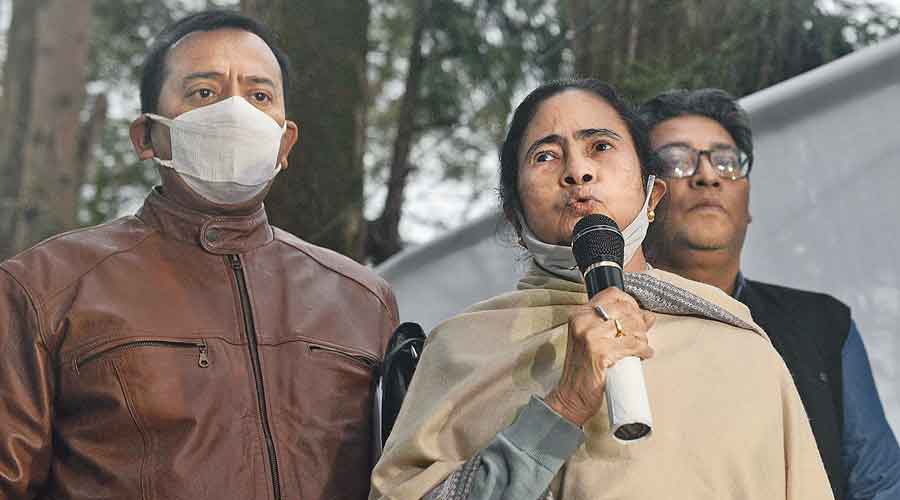 Mamata Banerjee in Darjeeling on Monday.
File photo
---
Darjeeling
|
Published 29.03.22, 12:06 AM
|
---
Chief minister Mamata Banerjee on Monday largely cleared the murky waters of Darjeeling politics with a consensus among major political parties — except the BJP-GNLF alliance — on the need to hold Gorkhaland Territorial Administration (GTA) elections.
"Major political parties from Darjeeling are willing for the GTA, panchayat and municipality elections and they said they will fully cooperate and they want peace. Only Roshan's party (the Gorkha Janmukti Morcha) said they will give some suggestions," said Mamata, who had earlier said she wanted the GTA polls in May or June this year.
The issue of the GTA elections, due since 2017, was getting complicated with Trinamul allies in the hills, the Bharatiya Gorkha Prajatantrik Morcha (BGPM) and the Gorkha Janmukti Morcha (GJM) flagging their own issues.
An MLA of Anit Thapa's BGPM, Ruden Sada Lepcha, recently said they wanted a three-tier zilla parishad for Kalimpong district that should be outside the ambit of the GTA. However, after Lepcha, Thapa and party's general secretary Amar Lama met Mamata on Monday, the MLA's statement changed drastically.
"The chief minister has said let the GTA elections take place first and then we will see what is permissible (regarding panchayat poll)… After the GTA election there will be three tiers (elections), how that will happen will be legally taken care of," said Lepcha. The MLA added: "Since the GTA (election) is near, we won't go into any controversy."
Roshan Giri, the Morcha general secretary, who despite saying they wanted permanent political solution for the hills before the GTA elections, gave enough indications on Monday that they were willing to go by Mamata's decision.
"We will hold a seminar on April 2 (on the permanent political solution) and submit our draft proposal (to the state government) on April 3," said Giri. "The government is in the mood for GTA elections, we have made a request, but what will happen depends on Miss Mamata Banerjee."
However, her decision to hold the GTA polls in the next three months has ruffled the BJP-GNLF alliance opposed to the entity itself.
Mamata sprung another surprise by bringing former Kalimpong MLA Harka Bahadur Chhetri, the president of Jana Andolan Party (JAP) to her fold. After a meeting with Chhetri, she announced him as the new chairman of the primary school board of Kalimpong. The same post for Darjeeling district was handed over to Trinamul leader Rohit Sharma.
Edwards meets CM
Ajoy Edwards, whose new Hamro Party won the Darjeeling civic polls, met Mamata  to "introduce" his party's new civic chairman Ritesh Portel.
After meeting the chief minister, Edwards said that since the civic body was an "arm of the administration" they would diplomatically engage with the state government on development.
"Diplomacy does not mean we will be puppets... We will be independent. e won't go for a pre-poll alliance," Edwards added.