Didi spares PM, but harsh on 'some'
CM: Don't encourage political feuds now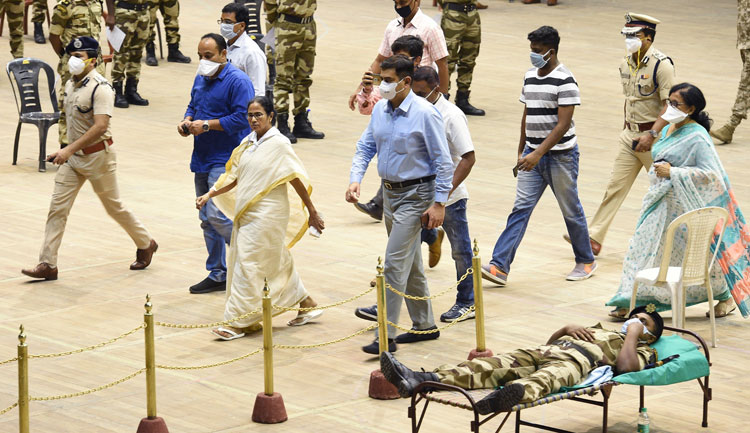 ---
|
Calcutta
|
Published 03.04.20, 09:09 PM
---
Mamata Banerjee has refused to get into a political spar with Prime Minister Narendra Modi over his plea to people to light lamps to show that the country is united in the fight against Covid-19 and asserted that her immediate priority is to tackle the pandemic.
The Bengal chief minister, who has steered clear of locking horns with Modi or his government since Covid-19 assumed serious proportions in India, apparently got agitated on Friday when journalists asked her what she thought of his plea to light lamps at 9pm on Sunday.
"You do it, he has asked you to do it, so you do it. Why are you asking me?" Mamata asked while addressing a news conference at the state secretariat in the evening.
"I will say what I have to, the Prime Minister will say what he has to. Why should I poke my nose (at this time) into what someone else has said? Ey toh moha mushkil (This is very troublesome)," she added.
In his video message to the nation on Friday morning, Modi asked the people to keep lights off for nine minutes from 9pm on Sunday and light lamps, torches or cellphone flashlights to show that India stood united in the fight against the pandemic.
The Trinamul Congress chief — one of the sternest critics of Modi otherwise — maintained her line of staying away from competitive politics amid the crisis and asked: "Am I to tackle the Covid-19 situation, or would you rather spark a political war, and have me participating in it now?"
"Please, I request you to have mercy and not try to encourage political feuds now," Mamata added. "If you think the Prime Minister has said something good, listen to him. If I feel I should sleep, I will sleep. These things are up to individuals. These are personal matters."
Although Mamata left it to individuals to light lamps or not, Modi's plea has drawn sharp criticism from Opposition parties.
In refraining from criticising Modi, the Bengal chief minister, a political scientist said, was following a pattern. "She wants to let the world know that her priority is to contain the spread of the novel coronavirus. She doesn't want to lose the focus and as an administrator, she is doing the right thing," said the political scientist.
Earlier, Modi had called for "Janata Curfew" on March 22 and asked countrymen to clap hands or clang utensils at 5pm on the day. Then also, political rivals had mocked Modi, but Mamata had refrained from criticising him.
"See, we are all in a crisis… the Prime Minister has made a proposal. Let us all work together in tackling the pandemic. Let that remain our primary focus, please," she had said.
Trinamul leaders said Mamata had been leading from the front in the fight against the pandemic and showing how to "de-politicise" the battle.
"The chief minister is leading by example, setting a code of conduct for all political forces and leaders in the country. The Prime Minister's party should learn a thing or two from her," said a senior Trinamul leader.