Mamata launches student credit card scheme
Observers see the announcements for bicycle and cash for tablets along with the card, as an attempt to please teens, most of whom will be voters by 2024 Lok Sabha polls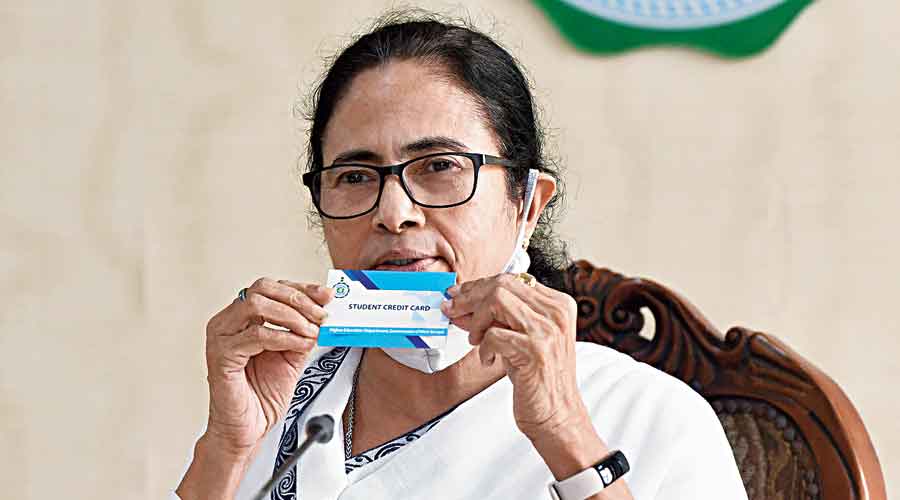 ---
Calcutta
|
Published 01.07.21, 04:39 AM
|
---
Chief minister Mamata Banerjee on Wednesday launched the student credit card scheme and announced her government's decision to repeat distributing bicycles among Class IX students and cash among Class XII students to buy tablets or smartphones for online studies.
The announcements, many observers said, captured her attempt to please the teens, most of whom will become voters by the 2024 Lok Sabha polls.
Mamata launched the student credit card scheme from Nabanna in the presence of state education minister Bratya Basu and top government officials. "Students up to the age of 40 years can avail an education loan of up to Rs 10 lakh. One has to be at least a Class X student to avail this loan," she said.
Sources said the key element of the scheme was that students would get loans without a guarantor.
"The state government will be the guarantor," a senior official said. "This will help poor students who often are denied educational loans."
Mamata said she had promised the scheme ahead of the polls and had to keep her word after Trinamul's win.
She added her government would distribute 12 lakh bicycles to students of Class IX this year. "Of them, 9 lakh bicycles will be given to students in Class IX in 2021 and 3 lakh to students who had been in Class IX in 2020 but didn't get the bicycles," she said.
Sources said last year the state government could distribute only 6 lakh bicycles amid the pandemic, not 9 lakh as planned.
Mamata added: "Last year, we gave Rs 10,000 each to 8.86 lakh students of Class XII. This year too, we will give Rs 10,000 each to 8.94 lakh students so that they can buy tablets or smartphones to continue their studies online."
Classes online have become the lifeline for students amid the pandemic. "She wants to win their (students') hearts to ensure the new voters (in 2024) keep her in mind," an official said.
An official recalled that the Mamata Banerjee government had extended several facilities to students since she came to power in Bengal in 2011. "Schemes like Kanyasree and Sabuj Sathi have helped her in the past few elections. It is clear that giving tabs to students of Class XII paid her huge dividends in the 2021 Assembly polls. Now, she is eyeing to strengthen her support base keeping the 2024 Lok Sabha polls in mind."