Bengal govt to transfer land to erosion victims
Evicted residents get plots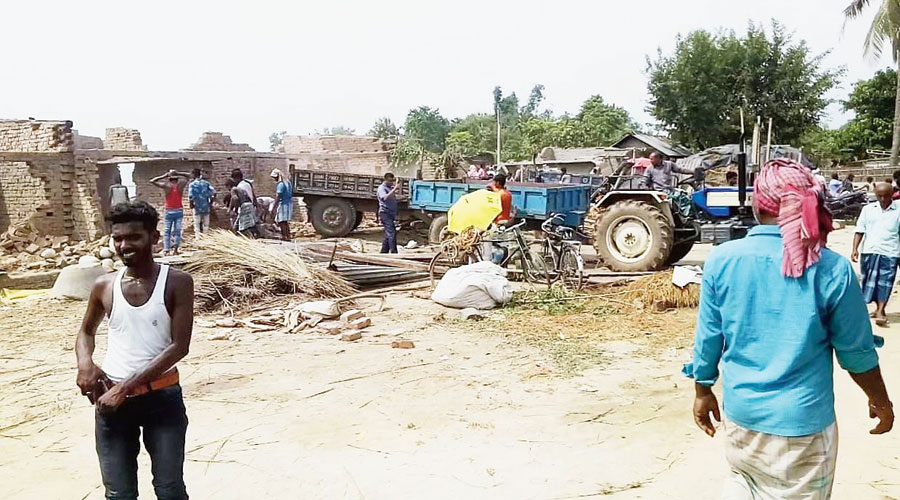 ---
---
The Mamata Banerjee government has started handing over land to people who were earlier evicted or lost their homes and land because of river erosion in north Bengal.
While in Malda, the administration has announced that land will be provided to 68 erosion victims on Monday, tourism minister Gautam Deb handed over land rights to 14 families in Jalpaiguri on Sunday.
In Malda, all the victims who would be handed over the land are from different villages of Baishnabnagar Assembly constituency that has a BJP MLA since 2016.
"We would be offering each of 68 families the deed of land measuring one cottah. The alternate land would be in the vicinity of their old houses. Few families would even get the land near NH12," said Rajarshi Mitra, the district magistrate of Malda.
This is the first time in recent times that the administration has acted so quickly to provide alternative land to erosion victims. "Among the prospective beneficiaries are many who have lost their homes to the erosion a fortnight ago," said Subhamay Bose, a spokesperson for district Trinamul in Malda.
He also demanded that the Farakka Barrage Project Authority that functions under the central government take up anti-erosion work in the affected areas.
Although the erosion started on a small scale in June in Baishnabnagar under Kaliachak 3 block, it took a grim turn on August 30 when large stretches of land in Chinabazar and Sarkarpara were devoured by the Ganga.
Frightened by the erosion, the residents had started shifting their houses to safer places. Many took shelter at a local ground and others were living in makeshift tents. All the affected families would be rehabilitated in due course, said sources in the administration.
In Gajoldoba (under Rajganj block of Jalpaiguri) where the state is developing "Bhorer Alo," a mega tourism hub, 14 families, who had encroached on government land, were evicted as it was decided to build a bridge and its approach road to connect the hub.
"Today (Sunday), we provided them with land. They will also get funds under the state's housing scheme to build their homes," said the tourism minister.