Mamata Banerjee focuses on small-scale industries in hills
The economy of Darjeeling depends mainly on tea and tourism, both of which are largely unorganised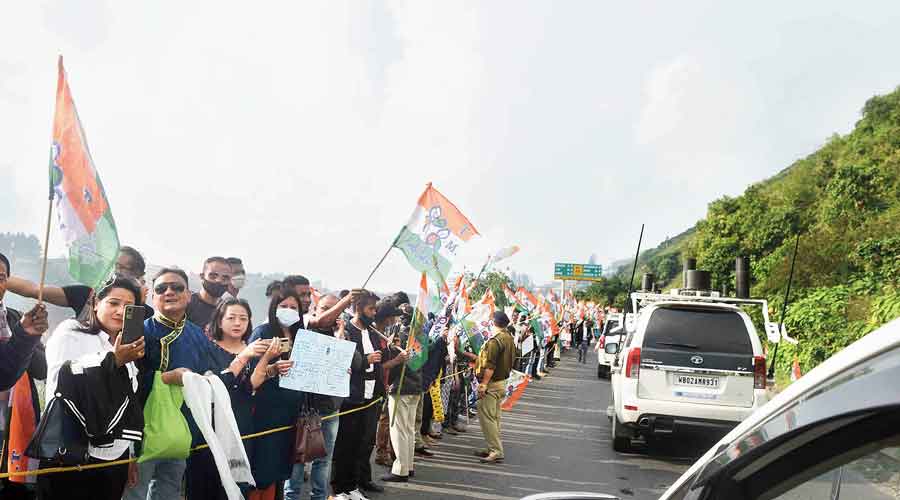 People welcome chief minister Mamata Banerjee with flags in Kurseong on Tuesday.
Telegraph photo
---
Kurseong
|
Published 27.10.21, 01:40 AM
|
---
Chief minister Mamata Banerjee on Tuesday spoke extensively on the need to set up small-scale industries in the hills, the stress on industry in a region traditionally starved of organised sector employment indicating a strategy to woo voters in the region ahead of the GTA and panchayat polls.
This is the first time the state government has shown such an intent for the hills, but it remains to be seen if the idea is implemented, said a veteran in hill politics.
Mamata announced a steering committee with Anit Thapa, president Bharatiya Gorkha Prajatrantik Morcha, his rival Roshan Giri, general secretary of Gorkha Janmukti Morcha, former Darjeeling MLA, Amar Singh Rai, Trinamul leader Gautam Deb and state government officials.
"The steering committee should come up with proposals by December. I will visit Darjeeling then," she said.
The economy of Darjeeling depends mainly on tea and tourism, both of which are largely unorganised.
In an attempt to create more jobs, Mamata stressed on eco-friendly projects in 15 percent of unused tea garden land that the government has allowed for non-tea activities.
She also directed officials to explore the possibility of bottled drinking water plants using stream water. "This can be marketed through Bengal Dairy (an enterprise of the state government)," she said.
"Bengal Dairy will take up HIMUL (a dairy cooperative in Siliguri) and we will also set up a plant to produce poultry, cattle and fish feed," said a state official.
The other proposal floated by Mamata was IT units. "Why can't IT units be set up in the hills, the place is ideal for IT hardware units," she said.
Mamata stressed the unused land of cinchona plantation be properly utilised.
Discussions also ranged from setting up knitting and embroidery units in the hills, and strengthening food processing units and packing units which the Confederation of Indian Industries (CII) has taken up in the hills with the state government and district administration.
"Train hills youths in skills, just bring them out of their houses and train them," said Mamata.
The CII was also instructed to come up with proposals for Darjeeling region. 
The CM also announced construction of Jai Hind community and conference halls in Darjeeling, Kalimpong, Kurseong and Mirik.
Rai raised the issue of appointing a vice-chancellor for Darjeeling Hills University and waiving electricity dues that hill people were not allowed to pay by agitating parties during the Gorkhaland agitation a decade back.
Other issues raised by various hill leaders included setting up a subordinate selection board to recruit employees by Gorkhaland Territorial Administration, a separate school service commission for the hills, converting forest village into revenue villages, creating an alternative route to NH10 to connect Siliguri with Kalimpong/Gangtok among others.
"There has to be peace in the hills. We plan things for hills but outsiders come and instigate an agitation. If there is peace much can be achieved," Mamata said.