Mamata Banerjee defends Tollywood actor
Saayoni Ghosh was attacked by BJP leader on social media for daring to criticise Hindutva forces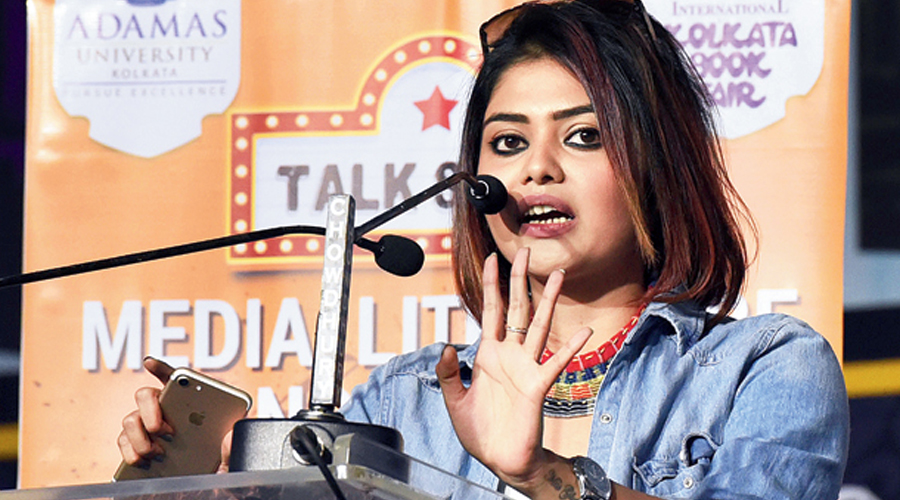 Saayoni Ghosh
The Telegraph file picture
---
Calcutta
|
Published 20.01.21, 01:00 AM
|
---
Mamata Banerjee on Tuesday tore into a section of BJP leaders for attacking a Tollywood actor.
"How do you dare rebuke Bengal? I dare you to touch Tollywood. I dare you to touch the cultural arena," Mamata said at a massive rally in Purulia.
The chief minister was referring to a recent event where Tollywood actor Saayoni Ghosh was attacked by BJP leader Tathagata Roy on social media for daring to criticise Hindutva forces.
Without naming Roy, Mamata said the septuagenarian had lost his mind. "She (Saayoni) is of his granddaughter's age. Why is he giving her daily threats? Can't she speak her mind?" Mamata asked.
Roy engaged in a Twitter war with Saayoni recently after she spoke on BJP's "Jai Shri Ram" slogan during a TV show. "Jai Shri Ram is the Lord's name. Say it with love. Why do you need to make it a war cry?" Saayoni had said.
This led to a tussle on Twitter between her and Roy.
Roy filed a police complaint against Saayoni with Rabindra Sarovar police referring to an old tweet posted from her handle in February 2015 that had hurt religious sentiments. Saayoni tweeted an apology and clarified her Twitter handle had been hacked and it wasn't her post.
"Didi's immense love and assurance has lifted my spirits and she has proven once again that her fight for a peaceful and democratic Bengal continues in full might," Saayoni told The Telegraph.
Actor Debalina Dutta is also being trolled for saying people should have the liberty to eat or cook what they want. Tarunjyoti Tewari, a vice-president of the BJP's state youth wing, said on Facebook that Dutta's comments hurt his religious sentiments. "She can cook and eat whatever she wants...but there's a limit to what she says," Tewari, who filed a complaint against Dutta with Baguiati police on Tuesday, told journalists. Dutta said Tewari's Facebook post led to rape threats.