Mamata backs MSP law, says Yogendra Yadav
Bengal chief minister had earlier expressed solidarity with the farmers' movement against the Centre's three contentious farm legislation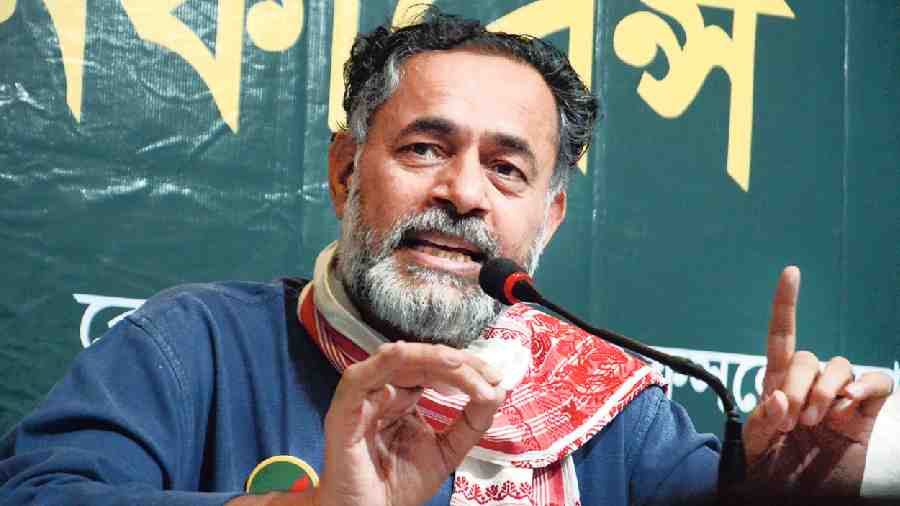 Yogendra Yadav in Calcutta on Wednesday
The Telegraph
---
Calcutta
|
Published 26.05.22, 01:10 AM
|
---
Mamata Banerjee is all in favour of the farmers' demand for a national MSP (minimum support price) law, said Yogendra Yadav, the founder of Jai Kisan Andolan group, which is fighting for a legal ratification of the minimum support price for 23 crops.
According to Yadav, he spoke to the Bengal chief minister on Wednesday morning, during which she sought a written proposal on the matter.
"She (Mamata) was kind enough to call me up. She has expressed her in-principle support for our demand," Yadav said in Calcutta on Wednesday.
"She has asked for a written proposal, which she will go through," he added.
According to him, parties such as the RLD, RJD and the SP have also in principle supported this cause. The Congress has formally backed it.
"With all parties coming together over the demand for a national MSP law, it might turn out to be a common issue for Opposition parties to attack the Narendra Modi government," Yadav said.
"To take on the BJP in 2024, the Opposition needs a unity of purpose more than an electoral alliance. The fight for a national MSP law can serve as that purpose," Yadav added.
Mamata had earlier expressed solidarity with the farmers' movement against the Centre's three contentious farm laws.
The Centre later withdrew the laws.
Rakesh Tikait, a farmer leader of the Bharatiya Kisan Union, had also met the Bengal chief minister in June last year, within a month of her return to power for the third time.
According to Yadav, the Morcha — an umbrella body of more than 400 farmers' unions, including the Jai Kisan Andolan group — will meet on June 8 to decide on the future course of its actions.
It plans to hold multiple rallies and meetings across the nation in support of their demand for a centralised MSP law as well as similar laws in each state.