Malda takes lead in export
Trans-border trade is yet to start in five other land ports which Bengal shares with Bangladesh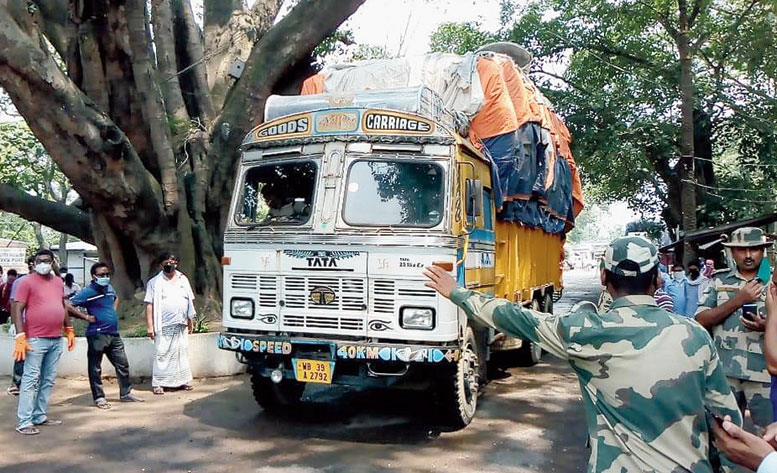 ---
|
Malda
|
Published 04.06.20, 11:13 PM
---
The export of Indian goods to Bangladesh via the Mahadipur border in Malda district started on Thursday after a gap of over 70 days.
The trade came to a halt at the border, along with some other land ports of Bengal, on March 24, when the nationwide lockdown to curb the spread of Covid-19 was announced.
This trans-border trade is yet to start in five other land ports which Bengal shares with Bangladesh, said a source.
On Thursday, 86 trucks of maize and onions crossed the border and entered the Sona Masjid area in Chapai-Nawabganj district of Bangladesh.
"Usually, 325 trucks cross the border via Mahadipur every day. But on Thursday, only one-fourth of the usual number entered Bangladesh. Even so, we are relieved that trade has finally started at the border," said Mahadipur C&F Agents' Association secretary Bhupati Mandal.
The export could be resumed after traders made arrangements for medical screening of drivers and sanitisation of trucks.
With the lockdown, trade via land ports — the other five ports of Bengal on the Bangladesh border are Changrabandha (Cooch Behar), Fulbari (Jalpaiguri), Hilli (South Dinajpur), Ghojadanga and Petrapole (North 24 Parganas) — also stopped.
The halt in trade made the stakeholders contact the state government. The Centre also asked the state to see to it that the trade was resumed. Even the Benapole Customs Clearing and Forwarding Agents Association of Bangladesh wrote to the Calcutta Customs House Agents Association, the Federation of Indian Export Organisations and the deputy commissioner of customs, seeking the resumption of trade.
In Malda, exporters decided to resume trade as no decision on this was made by the state. This in turn spurred the district administration to come up with a set of precautions for all those engaged in trade at the border to avoid the spread of Covid-19.
Usually, goods worth around Rs 30,000 crore are traded annually through the land ports and most of the items are sent through Petrapole, said a source.
An exporter in Siliguri called it a welcome start. "The ball has started rolling," he said.
"From Thursday, it started in Malda. Exporters of Changrabandha in Cooch Behar have also written to their counterparts at Burimari in Bangladesh for a meeting at the border to discuss safety measures. The Cooch Behar district administration has also come up with a set of safety directives and asked exporters to consult it to prevent the spread of the pandemic," the exporter added.
Kartick Chakraborty, secretary of Petrapole Clearing Agents & Staff Welfare Association, said his outfit was aware that Mahadipur had opened trade. "We are keeping our fingers crossed (for more border trade in the coming days). Hundreds associated with border trade at Petrapole are in distress. We hope a decision on trade is made by the North 24-Parganas administration soon too."