Malda murders: Asif Mohammad gave pistols and live cartridges to two of his friends for safekeeping
Police said that till now, according to one of the teen's statements, he had eliminated his wealthy family because he wanted the whole house to himself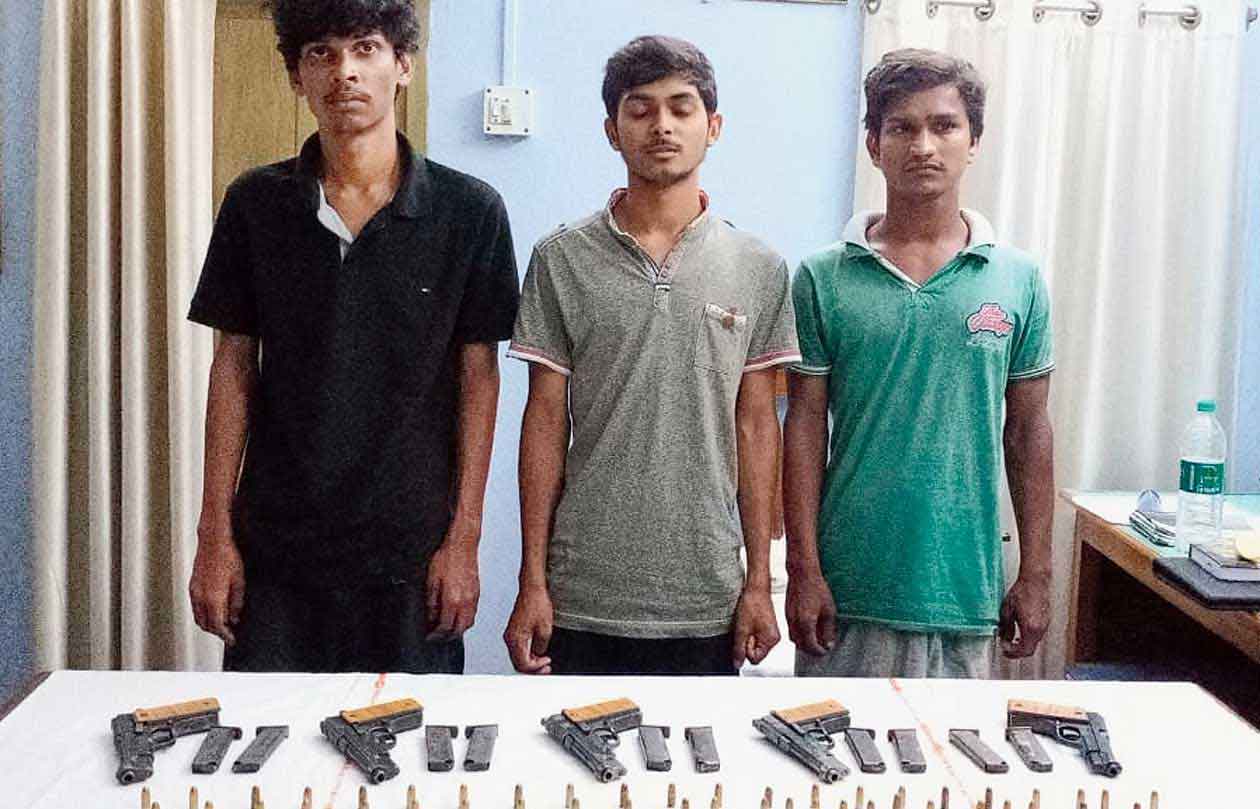 (From left) Murder accused Asif with friends Sabir and Mahfuz, with the guns and ammunition, at Kaliachak police station, Malda, on Sunday.
Soumya De Sarkar
---
Malda
|
Published 21.06.21, 01:13 AM
|
---
Police probing the Malda murders have found that Asif Mohammad, the 19-year-old online gamer who allegedly killed and buried his parents, sister and grandmother four months ago in Gurutola village, had given pistols and cartridges to two of his friends to keep two days before his arrest early on Saturday.
Malda police on Saturday night arrested his friends Sabir Ali, 18, and Mohammad Mahfuz, 20, and seized from them five 7mm pistols, 84 bullets and 10 magazines, which apparently belonged to Asif.
The duo purportedly told the investigators that Asif had asked them to keep the cache of arms and ammunition.
"The arrested duo have confessed that Asif had asked them to keep the arms and ammunition safely," said Aneesh Sarkar, additional superintendent of police (rural), Malda.
Asif gave the weapons to his friends on Thursday, a day before his brother Arif, 21, reported the murders to the police.
An officer said it was yet to be ascertained if Asif had guessed his elder brother would report the murders, allegedly committed on February 28, to the police.
Police said till now, according to one of Asif's statements, he eliminated his wealthy family because he wanted the whole house to himself.
"(But) he is changing his version every minute. He shows no signs of remorse."
"He told his family that once they transfer the entire property in his name, he would send them to a location where they can live peacefully," said an officer.
An investigator added: "It is clear Asif was interested in the dark net. Tracking his online activities would give us an insight into his plans."
The dark net is a part of the Internet that can be accessed only through specific software and is mostly used by hackers for illegal cyber activities.
Asif reportedly forced his father to sell some property, including a four-wheeler and a dumper. But he never shared details of his activities with his family or friends."He gave those around him the impression that he was doing something very important and people should not disturb him," an investigator who questioned Asif's friends and brother, said.
Asif had allegedly mixed a strong tranquilliser with cold drinks on February 28 and given them to his parents Jawad Ali, 53, and Ira Bibi, 39, sister Rima Khatun, 16, and grandmother Aleknoor Bewa, 73, and when they fell unconscious, tied them and taped leucoplast on their mouths to choke them.
He then allegedly dug a trench on the premises of their house and buried them, telling neighbours that "everyone's in Calcutta".
Arif told the police that he managed to flee from his brother. Cops questioned him on why he had not reported the crime earlier, waiting for four months instead.