Malda homeless vent ire at officials
Since last Sunday, erosion has become acute in a number of villages under Birnagar-I panchayat of the block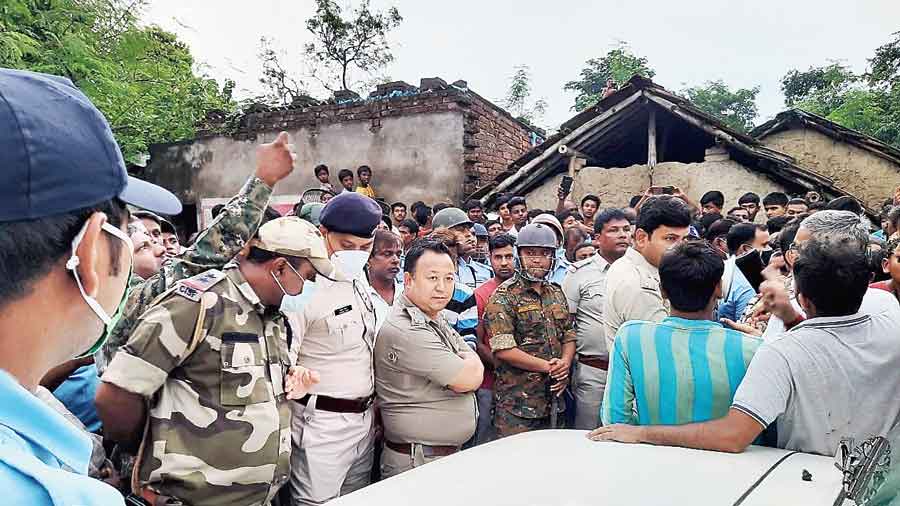 Police speak to the aggrieved residents at erosion-hit Sarkartola village of Malda on Tuesday.
Soumya De Sarkar
---
Malda
|
Published 29.09.21, 02:21 AM
|
---
Angry residents of a village in Kaliachak-III block who lost their houses to erosion caused by the Ganga intercepted a vehicle of the Farakka Barrage Project Authority (FBPA) carrying a team of engineers and officials to the erosion-hit areas on Tuesday.
Residents of Sarkartola village detained the team for three hours, demanding immediate rehabilitation. They also accused the FBPA of not carrying out anti-erosion work properly.
Officials of the block administration and police had to intervene to calm  the villagers down, who eventually released the team in the evening.
Since last Sunday, erosion has become acute in a number of villages under Birnagar-I panchayat of the block. In the past three days, around 300 families have become homeless in Sarkartola and its adjoining villages.
The FBPA, responsible for checking erosion in these areas, has initiated some interim work in the past few days. "As of now, they are dropping sandbags on the bank to check erosion and have said appropriate anti-erosion work would be carried out only after monsoon is over and the water level recedes," said an official of Kaliachak-III block.
On Tuesday, around 2.30pm, as the FBPA team was crossing Sarkartola, residents, especially those who are homeless, stopped the vehicle.
"We want the barrage authority to rehabilitate us. There are around 200 bighas of land available in Lakkhipur area (of Malda district) which they had acquired earlier. It is lying unused and we want them to give us land there so that we can build our homes," said Sheikh Mustafa, one of the protesters
Protesters alleged that the FBPA hadn't drawn up any plan to check erosion by the Ganga when " over 1,000 families" lost their homes.
Some FBPA members tried to tell villagers about their helplessness, but in vain.
As the news reached the district administration, officials from the local block and a large contingent of policemen rushed to the spot. Police spoke to protesters and managed to convince them to let the FBPA team leave.
Around 5.30pm, the FBPA team was allowed to go. A meeting between the team members and protesters.was held at Baishnabnagar police station
Because of erosion, Swadhin Sarkar, former BJP MLA of Baishnabnagar, is all set to become homeless again. In 2016, the Ganga had gobbled up a major part of his house in Sarkartola. Sarkar rebuilt it. "But in the past couple of days, the river has started eroding land again and is barely a few metres away from my house. I have started shifting my belongings and engaged workers to dismantle it so that I can use the bricks and rods and other items in due course," said the former MLA, now spending nights at the home of his driver in nearby Bhimagram.
"I don't know where I will stay with my family as the house would be gobbled by the Ganga in another few days," said Sarkar.