Muslims help in Hindu's cremation
Malda shows amity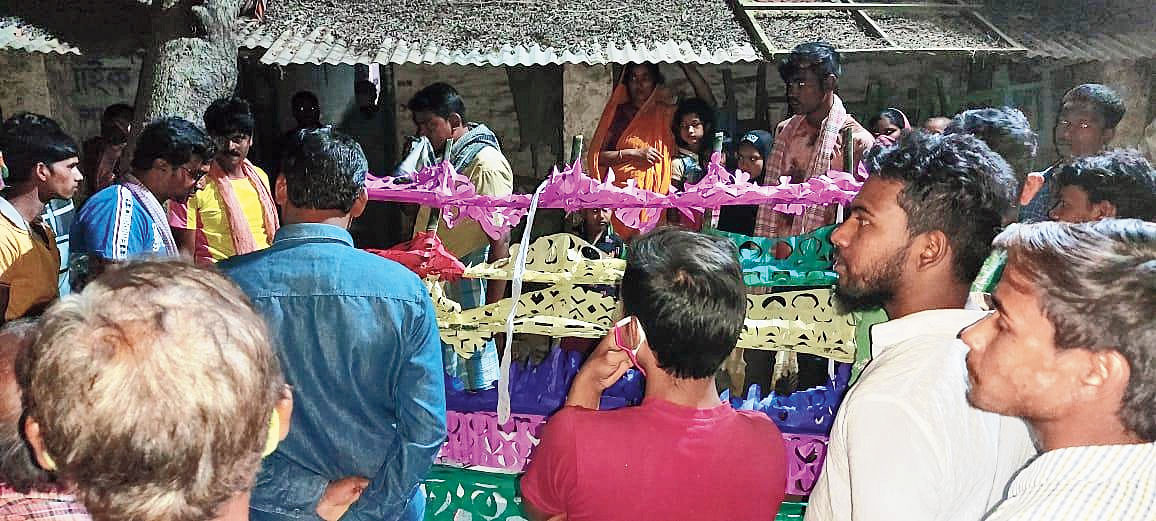 ---
|
Malda
|
Published 08.04.20, 09:38 PM
---
Kamal Saha and his brother Shyamal were feeling helpless when their octogenarian father Binay Saha died on Tuesday night.
As the lockdown was in progress, both the sons had no idea as to how to conduct the last rites.
However, hundreds of Muslim neighbours came forward to help the bereaved family shoulder the body to the cremation and conduct the last rites.
The Sahas found no words to thank Mukul Sheikh, Askara Bibi, Saddam Sheikh, Rejaul Karim and many others.
The residents of Lohaitola village under Panchanandapur 1 panchayat in Kaliachak 2 block of Malda, have set a unique example of communal harmony when attempts are made to widen the distance between Hindus and Muslims.
Sahas are the only Hindu family at Lohaitola. All other residents are Muslims.
"We never had any feeling of isolation for living amid our Muslim neighbours but the death of our father made us anxious. None of our relatives could come to help us because of the lockdown. It would have been tough for us to carry the father's body to the burning ghat alone. We were not sure whether it would be right to seek the help from the neighbours, who are from a different community," said Shyamal.
Askara Bibi, the head of the Trinamul run Panchanandapur 1 panchayat, and spouse Mukul Sheikh, approached the Sahas and assured them of a proper cremation of their father.
"It was nice to see that Saddam Sheikh, who is a popular face of the CPM in our area, along with elected members of other political parties, who are also from the minority community, helped Kamal and Shyamal," Askara Bibi said.
Mizanur Rahaman, Kuddus Sheikh and other Muslim youths made all arrangements and shouldered Binay Saha's body to Shakullapur burning ghat for cremation, that was conducted strictly in adherence with Hindu rituals.
"Religion never comes in the way of human relationships. We did what we ought to. Their religion is not important. Kamal and Shyamal Da were in a crisis and our duty was to stand by them," Saddam Sheikh said.
Aminul Ahasan, who was born at Lohaitola and is now the district inspector of schools (secondary education) in East Midnapore, called up his acquaintances at the villages and guided them to help the Hindu family.
"This is the actual ethos of India. Such harmony is prevalent in hearts of common people. We should just enkindle it. I am proud that my village still bears the spirit of true India," Aminul said.
Radha Gobinda Ghosh, a researcher of history in Malda, said: "Humanity should prevail over religious differences. What these Muslims have done for the Hindu family has restored our faith in the Indian tradition of tolerance and harmony."