Last journey respects filmmaker Mrinal Sen's wish
Sen, passed away on Sunday, was cremated at Keoratala at 4 pm on Tuesday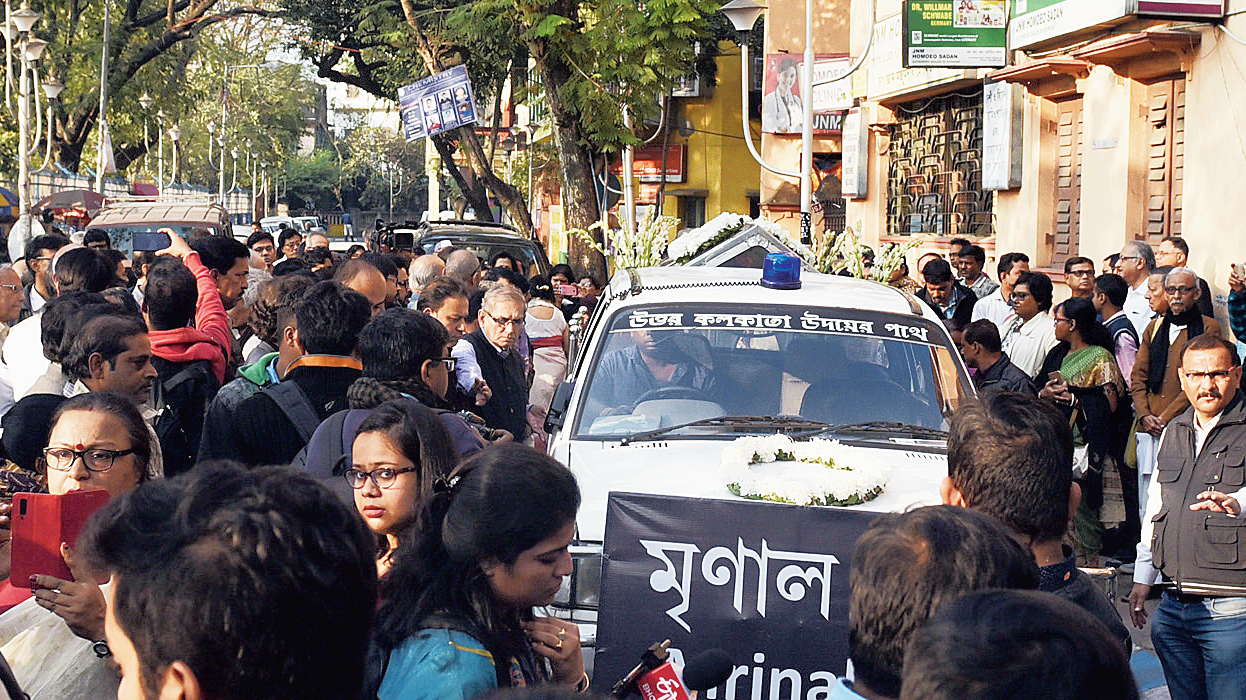 Filmmaker Mrinal Sen's cortege stops at 4E Motilal Nehru Road, adjacent to Deshapriya Park, where he had lived from 1969 to 1980.
Picture by Pradip Sanyal
---
Calcutta
|
Published 02.01.19, 09:57 AM
|
---
Kunal Sen bid his final farewell to an old "friend" on Tuesday.
"I called him Bondhu (Friend) but he was so much more," said filmmaker Mrinal Sen's son as the cortege made its way through Rashbehari Avenue.
With him walked many others — some known faces like Nandita Das, Aparna Sen, Anjan Dutt and Koushik Sen and many unknown ones, like a retired college teacher who wanted "to pay my last respects to a man who lived life on his own terms".
Sen, who passed away on Sunday, was cremated at Keoratala at 4pm on Tuesday. His body had been kept in a mortuary for his son, who lives in Chicago, to come and perform the last rites.
Often described as a "rebel" and an "iconoclast", Sen had wished not to be taken to Nandan after his death to be swamped with flowers and garlands by crowds and government representatives.
Instead, the cortege made a stop in front of 4E Motilal Nehru Road, adjacent to Deshapriya Park, where he had lived on the first floor of a three-storey building from 1969 to 1980. "This could be the only possible stopover on the way to the crematorium," Kunal said, pointing to a pale red building on Motilal Nehru Road.
The unorthodox address the Sen father and son had for each other — Bondhu — was Kunal's idea. "I was the one who started it. But I don't recall when and how it all started. We addressed each other as Bondhu and had enormous respect for each other," Kunal said.
"I've been fortunate in that he never imposed anything on me, be it political ideology or belief. He never pressured me to opt for a career in films. What I inherited is the spirit of free thinking," said Kunal, who works as the chief technology development officer at Encyclopaedia Britannica.
Nandita Das, who acted in Sen's last film Aamaar Bhuvan, said Sen was a bit like ahead-of-his-time author Saadat Hasan Manto in his "conviction, values and strength".
"Very blunt, very upright, he wore kurta, pyjama and kalo choshma (black rimmed glasses) just like Manto did," said the director of the recent film Manto.
Poet Sankha Ghosh, filmmaker Tarun Majumdar and actress Madhabi Mukhopadhyay were among the others who paid their last respects.
Actress and filmmaker Aparna Sen joined the funeral procession at the crossing of Rashbehari Avenue and Sarat Bose Road.
The walk stood out for its lack of fanfare. "Sen portrayed the emotions of the man without means. I recall meeting him once at the Book Fair in the '80s. He took questions from a 'nobody'. I did not want to miss this opportunity to walk with him," said Swapan Bhattacharya, a retired college teacher.
The family wanted to keep Sen's final journey low-key in deference to his wishes.