Large-scale land sale for Bengal welfare schemes
Decision taken at the 'highest level' at a time the state exchequer is running dry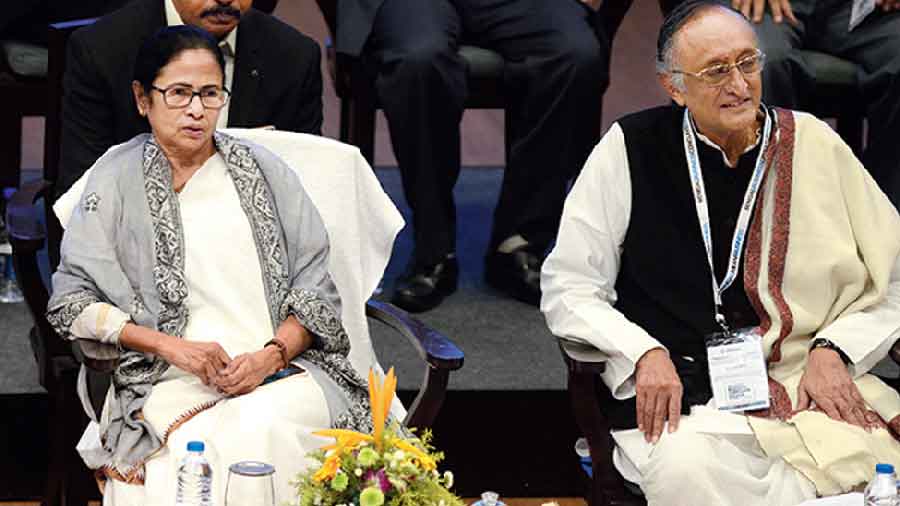 Mamata Banerjee (L) and Amit Mitra
File Picture
---
Calcutta
|
Published 21.09.22, 01:58 AM
|
---
A cash-strapped Bengal government has decided to sell off 32 land parcels across the state through e-auction to try and generate more than Rs 8,000 crore that would fund its welfare schemes.
The decision has been taken at the "highest level" at a time the state exchequer has been running dry with the Centre stopping funds release for several schemes and Bengal's own revenues still unable to reach pre-pandemic levels, officials said.
"Only the chief minister, her adviser and former finance minister Amit Mitra, the chief secretary and the finance secretary are dealing with the issue," a senior official said.
Earlier, the state government used to lease out land for commercial or residential purposes.
It has now decided on outright sale to realise the prevailing market price, something the long-term-lease route doesn't allow.
A senior bureaucrat said the move was not unprecedented — the state transport department had auctioned unused land from Calcutta's tram depots in 2013 — but government land had never before been auctioned on such a large scale.
"The state government is badly in need of money," a source said.
Officials said the land parcels identified for auction were spread across the state.
"The process (for the e-auction) has started with a 10-acre plot near Chowbaga Road in Ward No. 108 of the Calcutta Municipal Corporation. Next, the state will auction land parcels spread over 5.5 acres in Alipore. The remaining plots are in Durgapur, Dankuni, Burdwan and several other places," an official said.
An official said the state government spends nearly Rs 28,000 crore annually to run its welfare schemes.
The official said: "These schemes, including Lakshmir Bhandar (a direct benefit transfer scheme to over 1.7 crore women), have become more important these days since the Centre has not been releasing funds for the 100 days' rural job scheme in Bengal."
The Centre has stopped funds release for the rural job scheme citing alleged corruption, and for the Pradhan Mantri Awas Yojana (housing) and the Pradhan Mantri Gram Sadak Yojana (village roads) over alleged rechristening of the schemes by the state.
Some officials said the Bengal government's own revenue generation was yet to reach the pre-pandemic level of about Rs 5,500 crore a month.
"Revenue generation has definitely increased compared to the pandemic period but is yet to reach pre-pandemic levels," a finance department official said.
"The state spends Rs 1,097 crore every month to run the Lakshmir Bhandar scheme, which has been an additional burden on the exchequer since its launch in August 2021."
At a recent administrative review meeting, a source said, the chief minister had asked the chief secretary and Mitra to speed up the e-auction process so that the money arrived at the earliest.