KMRC allots temporary accommodation to two families
Evacuees move into flats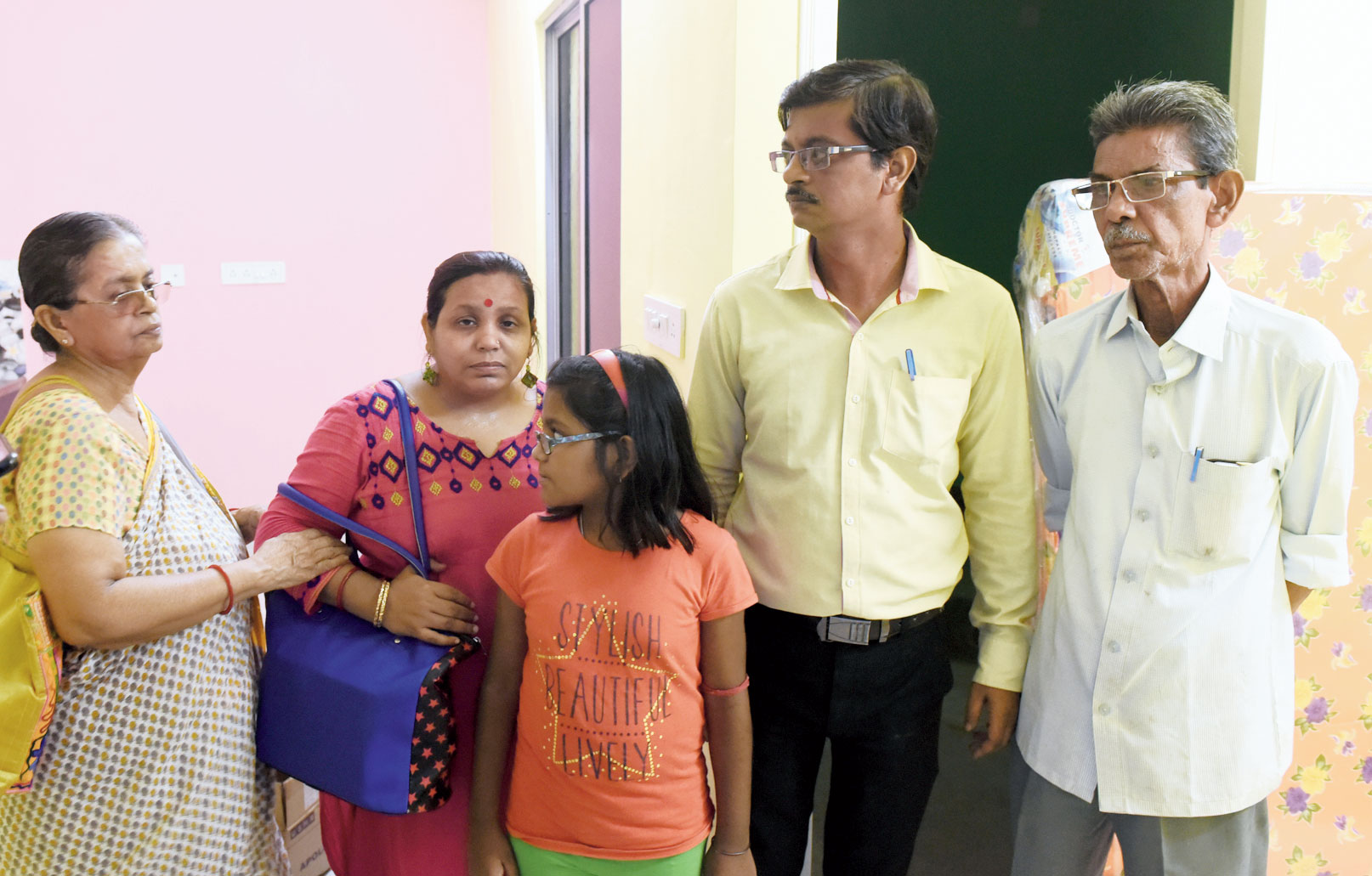 ---
|
Calcutta
|
Published 19.09.19, 09:15 PM
---
The movement of displaced residents away from the subsidence zone in Bowbazar began on Thursday, a fortnight after cracks started appearing across buildings in the area.
Two families — from Syakrapara Lane and Durga Pituri Lane — were allotted a new address in Kankurgachi, which is 6km from the cave-in zone.
The cave-in was triggered after the tunnel-boring machine hit a sand aquifer that had a large amount of water.
The Seals of Durga Pituri Lane were allotted two flats on the second floor of a building tucked inside a small alley on Kankurgachi Second Lane, while siblings Maitryee Ghosh and Srabani Raha of Syakrapara Lane were allotted a flat on the first floor.
Kolkata Metro Rail Corporation (KMRC) officials, who had accompanied the families from separate hotels, had a trying time setting the flats in order. Both families complained that the flats lacked water supply and the washrooms were unfit for use.
Late in the evening, as the displaced residents settled down in their new address — 22/G Kankurgachi Second Lane — lights were switched on at Durga Pituri Lane and Syakrapara Lane in Bowbazar for engineers to survey buildings that would have to be pulled down over the next few weeks.
"The agreement with the owner of these two flats is for 11 months. The KMRC will pay the rents," said a senior Metro official. "We plan to move in a few other families from various hotels over the week."
The Seals have been living at 14 Durga Pituri Lane for decades. On August 31, when a building at 13 Durga Pituri Lane collapsed, cracks started appearing on the walls of their house. KMRC officials have said that the building would have to be pulled down.
Life in Bowbazar was quite different for elderly Nirmal Seal and his wife Ashoka. They never felt the need to install an air-conditioner in their house in all these years. On Thursday evening, Nirmal wondered if they would need one now after they had moved into flats.
"The walls of our house were so thick that we never felt the need to install air-conditioners," Nirmal said as he walked around the two-room flat that has a small dining place, a kitchen and a washroom.
"We plan to shift our beds, made of teak wood, to these rooms. Will they fit in?"
In Syakrapara Lane, the ancestral house of Maitryee and Srabani is being pulled down. After their father Robin Laha passed away, the sisters had authorised Purna Chandra Ghosh and Chandramani Behera, their aides for decades, to stay at the house and maintain the three-storeyed building while running their family business in Sealdah.
Alo Kirtania, another woman from Hooghly who used to look after Robin, was also authorised to live with Ghosh and Behera.
On September 1, the KMRC had shifted the three to a hotel on Central Avenue and on Wednesday asked them to leave because they were not the landlords. After Maitryee and Srabani put their foot down, the three were shifted to the flat in Kankurgachi.