Kidnapped baby found - Burqa-clad snatcher dumps sleeping infant in PCO booth
Read more below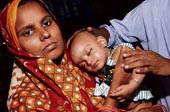 ---
---
Six-month-old Surmaiya sleeps in her mother's lap. Picture by Pabitra Das
Six-month-old Surmaiya, whom a burqa-clad woman had stolen from her mother Khadija Bibi at Sealdah station on Tuesday, was abandoned in a PCO booth in Narkeldanga on Wednesday afternoon.
The owner of the PCO told police that a burqa-clad woman had come with the baby around 2.30pm to make a telephone call.
"She made the call and paid only Rs 9 against her bill of Rs 12. The woman left the PCO keeping the baby on a chair and telling the owner that she would return in five minutes," said a Government Railway Police (GRP) officer.
When the woman did not return after an hour, the PCO-owner reported the matter to residents of the area. The baby, which was sleeping, had woken up and started crying.
The residents informed Narkeldanga police station around 3.30pm. "The GRP had alerted us about the stolen baby. We got in touch with them. Khadija and her husband rushed to the spot and identified the baby," said an officer of Narkeldanga police station.
"The PCO-owner told us that the burqa-clad woman had seemed to be in a hurry and was scolding someone over the phone," added the officer.
The police suspect that the woman was part of a racket. "It seems that she was scared of being caught. So, she left the baby in the PCO and walked away. We are trying to trace the person she had telephoned," stated another GRP officer.
Early on Tuesday, a burqa-clad woman had befriended Khadija, a resident of Amdanga, in North 24-Parganas, at Sealdah station and offered to pacify the wailing girl. The woman took the baby and melted into the crowd.
Khadija was ecstatic at getting her daughter back. "My child has got a new lease of life. We had lost hope of seeing her again," she said.
Her husband, Mohammad Golam Mustafa, who teaches Arabic in a madarsa at Bankra, stood smiling beside her. "We spent a sleepless night yesterday. Everybody in our locality is happy after hearing the news. It's unbelievable," he said.