Kestopur Bailey bridge to be longer than Majerhat
A month's deadline for the work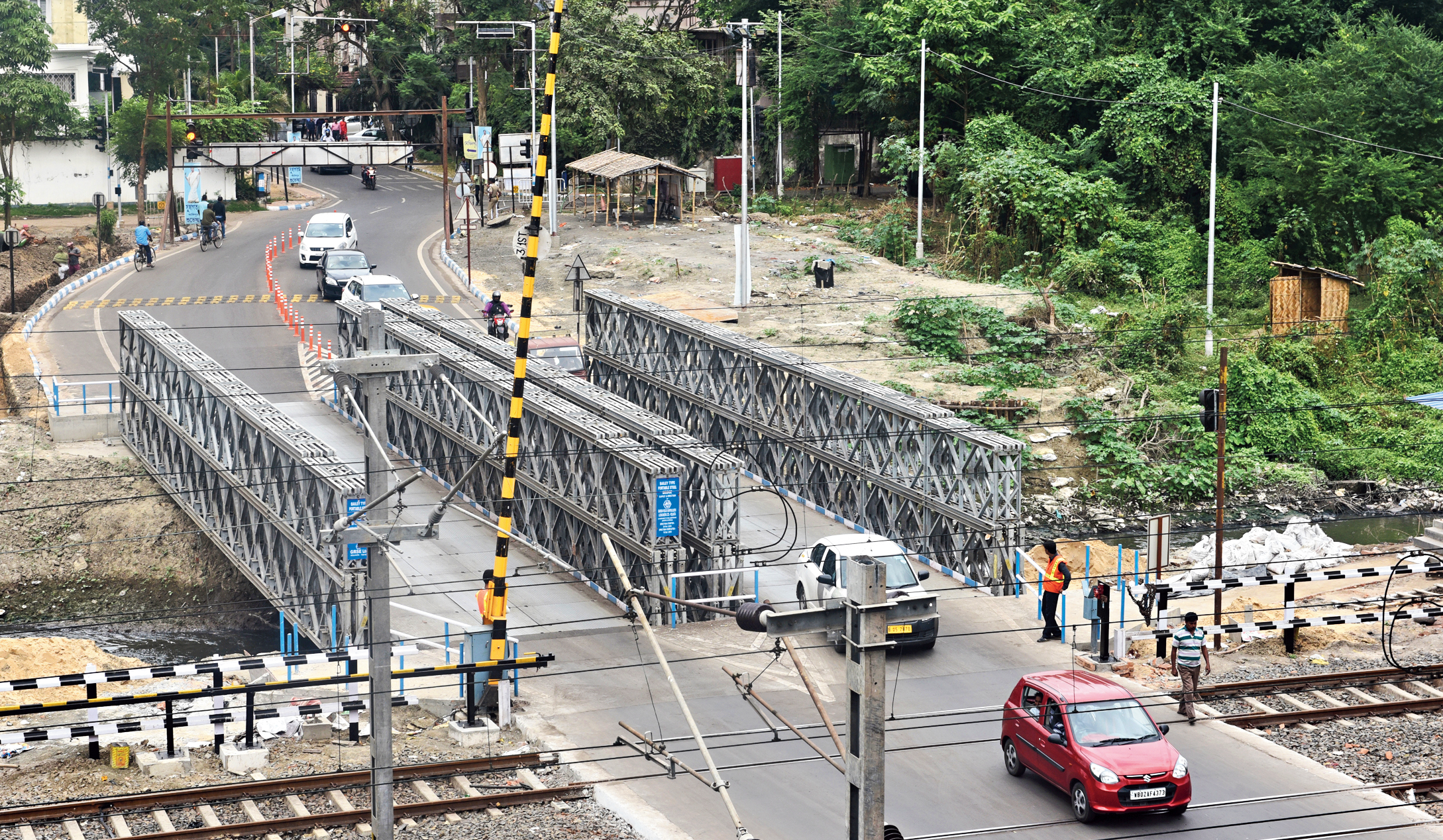 The twin Bailey bridges at Majerhat
The Telegraph file picture
---
Calcutta
|
Published 19.07.19, 08:14 PM
|
---
A Bailey bridge that will come up across Kestopur canal for Salt Lake-bound vehicles from VIP Road will be double the length of the ones in Majerhat, an urban development department official said.
The Calcutta Metropolitan Development Authority, the executing agency, has set a month's target for the work.
The bridge, made of special grade high tensile steel, will cost around Rs 2.25 crore.
"The proposed Bailey bridge will be around 45m long, roughly double the length of each of the two bridges at Majerhat," a Garden Reach Shipbuilders and Engineers (GRSE) official said. "The width of the bridge will remain the same as that in Majerhat — 4.25m."
An alternative route for Salt Lake-bound vehicles is needed because an engineering consultancy company that ran a health check on the Ultadanga flyover suggested a complete overhaul, a member of the bridge advisory committee looking into the health of this and six other bridges said.
The flyover, which connects VIP Road with the Bypass, was shut down on the evening of July 9 to repair a crack in a pier cap on its Bypass-bound flank.
An overhaul of the flyover will take at least four months, the bridge advisory committee member said. "Once the engineering consultancy company submits a detailed report, we will start the overhaul," the member said.
On July 11, police had reopened the airport-bound flank of the flyover, easing the movement of airport-bound vehicles from the Bypass; but those headed for the Bypass had to take a circuitous route.
Snarls at Ultadanga during rush hours prompted officers of the Bidhannagar commissionerate and Calcutta police to flag their concerns regarding a "traffic explosion" on VIP Road during the Puja.
On Thursday, Firhad Hakim, urban development minister and Calcutta mayor, met GRSE officials and asked the company to take up the work.
A decision to entrust Mackintosh Burn for completing the foundation work for the Bailey bridge was taken at the meeting.
On Friday, a team of engineers from GRSE and the CMDA visited the area near the footbridge at Lake Town to finalise the spot where the bridge will come up.
Earlier, a separate team had scanned a spot near Ultadanga on VIP Road for the bridge. The exact spot will be finalised by Sunday and work will start immediately.
"We have more or less finalised the spot. All that is required is a letter from the Bidhannagar commissionerate," a CMDA engineer said.
"Once that reaches us, work should start.... we hope from next week," the engineer said.
The proposed Bailey bridge will have a load capacity of 25 tonnes. The congestion that is likely on VIP Road and its effect on the bridge during festive seasons will be factored in, though, the GRSE official said. "GRSE will maintain the bridge for five years."