Jet frequent fliers worried over points
Company managing miles holds out hope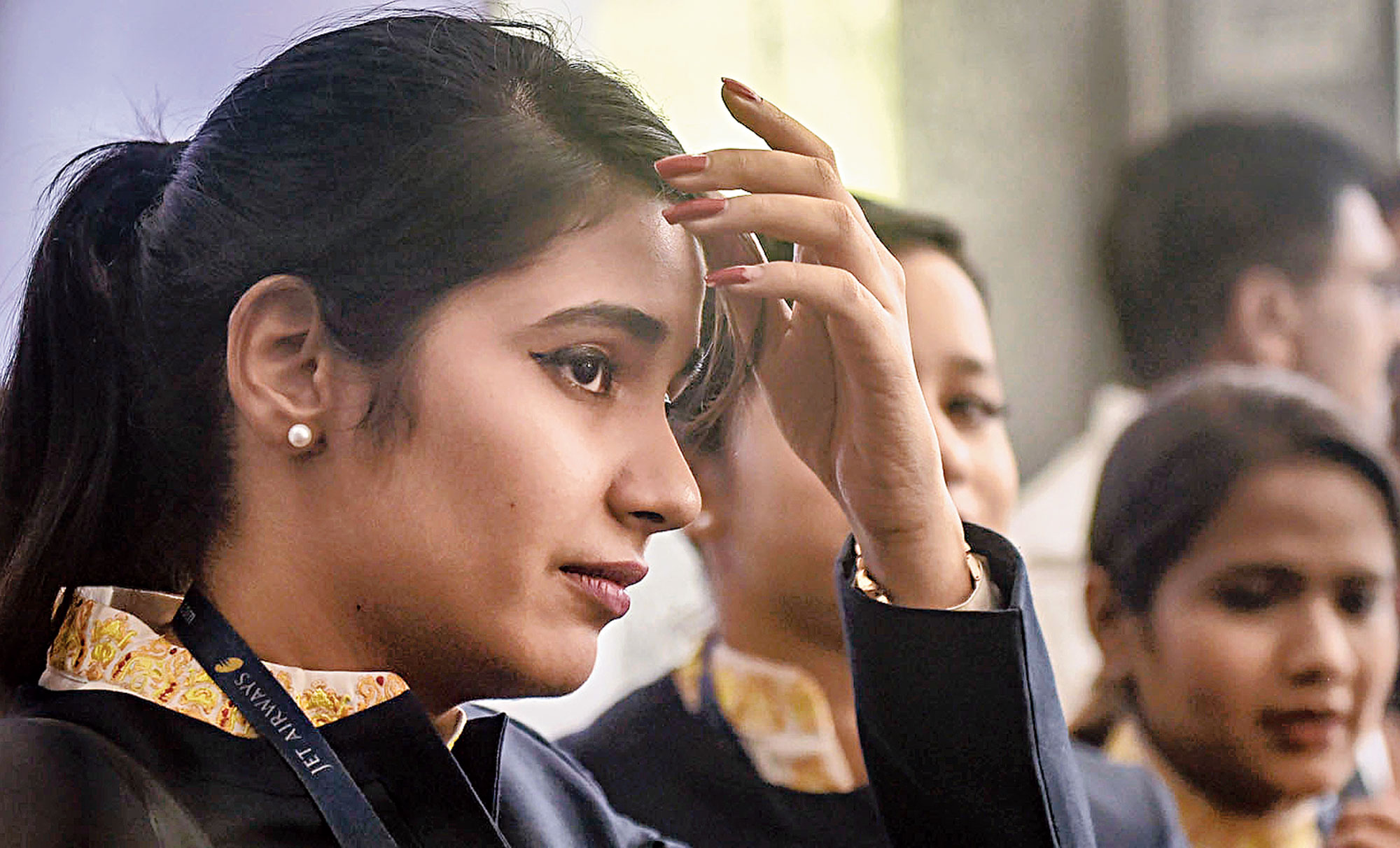 ---
|
Calcutta
|
Published 18.04.19, 09:51 PM
---
Jet Airways frequent fliers are worried whether the points they have earned would be honoured by other carriers following the suspension of service by the cash-strapped airline.
Although Jet Privilege Pvt. Ltd, which handles the Jet Airways frequent flier miles, is still functional, passengers and tour operators are apprehensive whether the points could be redeemed at all.
Jet Privilege has issued a statement allaying the fears.
Many airlines offer a frequent flier programme, which is designed in a way that passengers are encouraged to accumulate points or miles that can be redeemed for air travel or other rewards.
A Calcutta-based executive of a private company who did not wish to be named said he was in the dark about the fate of the 15,000 frequent flier miles he had accumulated.
"Jet Privilege has told me that I won't have any problem redeeming the points. But the airlines that will honour the points are all international carriers. Which means I have to travel international to redeem the miles," the executive said.
Jet Privilege has tie-ups with 25 international airlines. A person can redeem miles by flying any of these.
Another frequent flier in Calcutta said he was planning to buy books online using the points.
Model-actress Richa Sharma said she had failed to redeem her points while booking a Jet Airways ticket to Mumbai in the first week of April. "My travel agent expressed helplessness, saying the airline was not allowing redemption of my frequent flier miles," she said.
A Jet source, however, claimed that the miles could be redeemed on some domestic flights, too. "This was a recent arrangement," he said.
Metro got in touch in with Vistara, SpiceJet and Air India. None of the airline has any such arrangement with Jet Privilege.
"We received queries through the day from passengers who want to know the fate of their Jet Privilege Miles. We tried to get information but there was no clarity," said Anil Punjabi, chairman, east, Travel Agents Federation of India.
This newspaper tried to access the Jet Privilege website on Thursday evening but it was not functioning. "Oops... the site is under maintenance and will be up after some time. Kindly check back later," a message that popped up read.
Jet Privilege officials said there should not be any problem in redeeming the points.
"We would like to assure our members that the value of their JPMiles are secure and remain intact. With our air reward offering, 'Select Flights', members have the choice to redeem their JPMiles to fly free across more airlines, any destinations, any flights and any seats in India and globally, starting with the same JPMiles requirement as before which was applicable on Jet Airways and its partner airlines," the company said in a statement.
"As always, our members can also continue to use their JPMiles on hotel stays, fuel & 2,500+ merchandise options on the JetPrivilege Reward Store. We consider it our foremost responsibility to safeguard the faith our members have placed in us and remain steadfast in protecting and creating more value for our members through JPMiles. We are constantly expanding our vast partner network to offer diverse JPMiles earning opportunities across 10+ categories to our members."
Jet Privilege Pvt Ltd, the statement said, is an independent entity, part of the Etihad Aviation Group, formed with the sole purpose to market, develop and grow JetPrivilege.
Air India gesture
An Air India spokesperson said the airline was offering special fares to passengers with confirmed Jet Airways tickets, left stranded at foreign airports served by the national carrier.