JU students 'rusticate' chancellor Dhankhar
'Because of his partisan behaviour'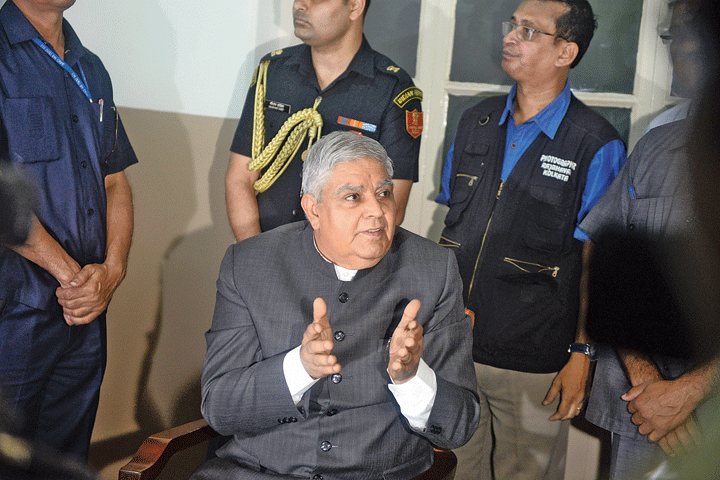 Governor Jagdeep Dhankhar at Calcutta University.
Picture by Bishwarup Dutta
---
Jadavpur
|
Published 26.12.19, 10:17 PM
|
---
A section of Jadavpur University students has drafted a letter addressed to governor Jagdeep Dhankhar in which they want to tell him that he is being rusticated as chancellor of the university "because of his partisan behaviour".
The letter was drafted in an all-faculty students' union meeting held on December 24.
"On 23.12.2019 you were asked a number of questions about the NRC (National Register of Citizens), NPR (National Population Register), CAA (Citizenship Amendment Act), the SC/ST Commission, violence unleashed on Muslims and other students and so on. We have found your response to these questions unsatisfactory. They were as innocent of knowledge about BJP-led police brutality on Muslims and other students as you are innocent of integrity…. Keeping the above in mind you are being informed of your rustication from the position of chancellor of Jadavpur University," the letter, that addresses Dhankhar as ex-chancellor, reads.
One of the students said they were yet to decide when the letter would be sent to the governor.
The draft letter has been attached with a five-point report card on Dhankhar.
The card reads:
"General Knowledge: Less than satisfactory;
Argumentative capability: poor;
Sense of history: nil;
Strengths: Unwavering dedication to ignoring violence against the students, Muslims
Overall character: spineless."
It was drafted on a day when Dhankhar had gone to the campus to attend the convocation and had to return without attending it following protests.
Dhankhar's arrival was greeted with protests by students and a section of university employees. The students wore badges on their convocation gowns that read "Not our chancellor". Many had said they would not accept their medals if Dhankhar was on the dais.
Dhankhar had also gone to the campus on December 23 to attend the university's court meeting. While he could not attend the meeting because of protests, he took questions from students under the portico of Aurobindo Bhavan, JU's administrative headquarters.
Ushashi Paul, a leader of the arts faculty students' union, said: "Dhankhar has been acting in a partisan manner. We have investigated his behaviour and motives and come to the conclusion that his efforts to engage with the students are shameless attempts to seek attention from students. He has ceased to be our chancellor."