Idol-makers ask Bengal government for financial aid
Pandemic drags down income, artisans desperate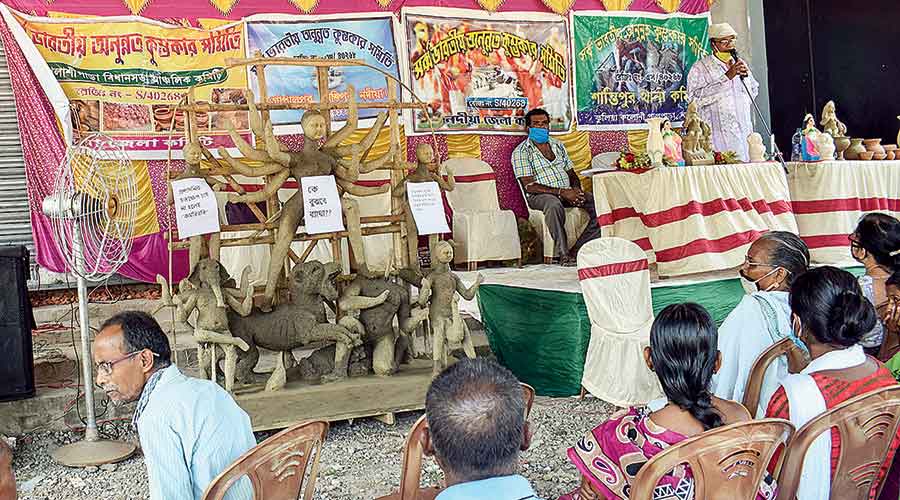 Potters and clay artisans during the demonstration in Nadia district's Phulia on Wednesday.
Picture by Abhi Ghosh
---
Kalna, Phulia
|
Published 01.10.20, 05:26 AM
|
---
The virus has not spared the clay magicians whose fingers conjure up idols revered by millions.
Over a thousand potters, mainly idol-makers, from East Burdwan's Kalna and Nadia's Phulia took to the streets on Wednesday demanding financial help from the state government as their industry is reeling under the outbreak of Covid-19 and the resultant lockdown.
The artisans organised the rally in Kalna under the banner of the All India Anunnata Kumbhakar Samity, which has around 16 lakh members in Bengal, and demonstrated in front of the local block development office (BDO). They demanded a monthly aid of Rs 7,500 for each of their families from the state government.
The demand from artisans follows the Bengal governments' decision to provide a monthly dole to priests and also help Durga Puja organisers with Rs 50,000 each. 
"The government has come forward to help priests and clubs (Puja organisers) but there is no word on us," said an artisan who took part in the rally in Kalna.
"We have been struggling to survive since April as there is hardly any demand for idols.
Usually, every year, we look forward to Durga Puja for the bulk of our annual earnings, but this year the organisers have ordered smaller idols. There has been a huge drop in the number of Vishwakarma and Ganesh Pujas (and hence idol orders and revenue) this year.
We are going through difficult times and can hardly survive," said Benoy Kumar Paul, the Burdwan district president of the samity.
Flagging their demands, Paul said: "We want the state government to pay us a monthly financial help of Rs 7,500 per family from April onwards (with retrospective effect) and help us get loans at low interest rates after the market revives."
"Artisans have got very few orders for clay models of Durga, while potters are facing a huge drop in the demand for clay pots. As not all food and tea stalls are open, the potters are not getting enough orders (for clay cups and utensils) to meet the cost required to keep their businesses running," he added.
A leader of the samity said they had already written to the minister of state for micro, small and medium enterprise and textile, Swapan Debnath, for financial help. They have also planned to meet chief minister Mamata Banerjee in Calcutta with their plea next week.
"We had written to the minister on September 2 but we are yet to get any response.
Therefore, we planned to meet the chief minister at her residence in Calcutta next week," said Bipul Paul, the secretary of the samity in Hooghly.
In these tough times, artisans had nowhere to go except the government, Munna Pal, an artisan in Nadia's Phulia and a working committee member of the samity, said.  
"The state has helped hawkers, folk singers, priests with financial aid but we have been ignored. Only the government can save us in our time of crisis. We also want cards for artisans so that we can get the benefit of welfare schemes of both the state and central governments," Pal added.
Artisan Saikat Malo of Kalna said they were making hefty compromises in 2020 to survive.
"I have accepted the fact that I will sell a Durga idol for Rs 9,000 this year when I had sold a similar one for Rs 18,000 last year. I have no option but to sell it at half the price because I don't have many orders this year. The state government has come forward to help clubs with Rs 50,000 each but we are not getting any such benefit," Malo rued.