Hundreds of tourists recount landslide, rain ordeal in hills
While some spoke about how they got stuck in traffic owing to road cave-ins, others recounted how they spent a night at the houses of locals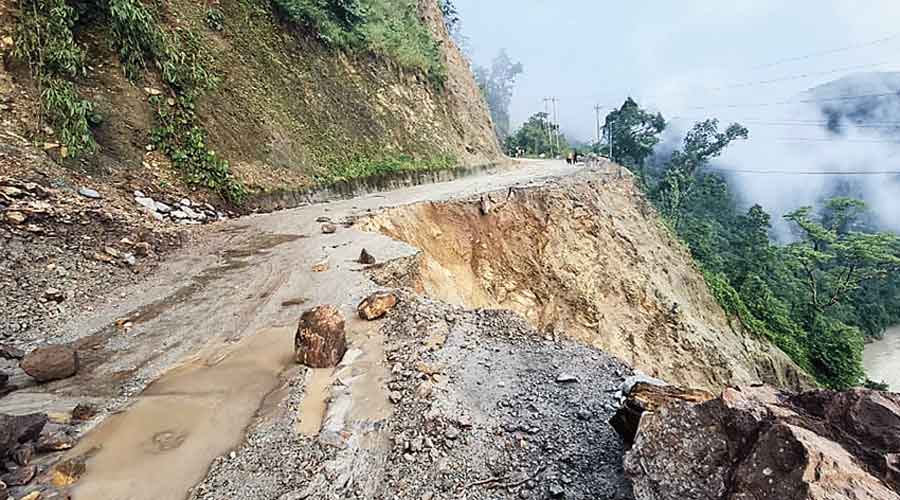 The 21st Mile stretch of NH10 is off bounds on Thursday following a landslide on Wednesday night.
Passang Yolmo
---
Siliguri
|
Published 22.10.21, 03:12 AM
|
---
Hundreds of tourists who have been to the hills descended to Siliguri on Thursday and narrated their harrowing experiences of spending the past 72 hours in different destinations of Darjeeling, Kalimpong and Sikkim.
While some spoke about how they got stuck in traffic owing to landslides and road cave-ins, others recounted how they spent a night at the houses of locals as they could not reach their destinations.
Ashok Chowdhury, who is from Cooch Behar and was on his way to Lava — a tourist hotspot in Kalimpong district — on Tuesday said he witnessed boulders and trees descending from the hills.
"By the time we left Kalimpong, it was raining heavily. Soon after we got out of the town, the downpour got intense and we saw trees and boulders rolling down. As we reached Sixth Mile, a landslide occurred and around 30 cars carrying tourists got stuck," he said. It was around five in the evening and throughout the night, the entire group was stuck at the same location. At around 9.30am on Wednesday, they started walking.
"We crossed the landslide with our luggage, walked for around five kilometres and then found some cars which took us to our place," he added.
Aparesh Dutta, a banker from Calcutta who had been to Sikkim, had a similar experience. On Tuesday afternoon, he and four of his friends had started from Gangtok and were supposed to reach Siliguri by evening.
"We however, could not proceed beyond Melli (around 60km from Siliguri). There was a beeline of cars. It was raining consistently and we could often hear from drivers and locals about fresh landslides occurring in different places of Kalimpong district, standing in the dark," said Dutta. It was then that one of the friends found a local who agreed to provide them accommodation and food. "We stayed together in a small room but it was like a boon to us. Otherwise, we would have had to sit in the car throughout the night," he said. Dutta reached here on Thursday morning.
On Wednesday morning, they went to Kalimpong, stayed there for a day and descended to Siliguri on Thursday. "We had Tuesday's train tickets. Today, we somehow managed to get tickets of a private bus," said Dutta.
The sudden spate of rain followed by landslides across the hills have, however, not reduced the inflow of tourists to the region. 
Even on Thursday, hundreds of tourists reached the area. Those bound for Darjeeling and Dooars headed for their respective locations.
"However, those who were supposed to go to Sikkim or Kalimpong, could not head for their destinations as NH10 is still closed. While a section of them preferred to wait in Siliguri for a day, some others went to alternative destinations like Darjeeling, Mirik and Dooars," said Santanu Choudhury, who runs a travel house here.
Those associated with the travel industry however, are hopeful that the disruption due to the downpour will not affect the movement of tourists. Most of the hotels and homestays have reservations till Diwali.
"There has been no cancellation so far. Restoration work of the hill roads have started and we believe things will become normal in the next few days," said Samrat Sanyal, secretary, Himalayan Hospitality and Tourism Development Network.