Houses teeter on brink of collapse
Pond's bank erodes, road depletes in Bhatpara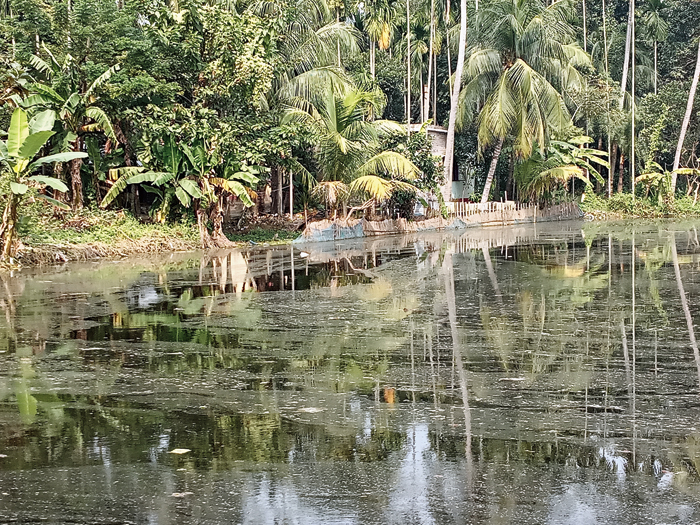 The pond at Abantiour Mondalpara in Bhatpara; (right) a wall (circled) that demarcated the waterbody's boundary
Pictures by Pranab Biswas
---
Bhatpara
|
Published 09.12.19, 08:12 PM
|
---
The erosion of the bank of a two-acre pond owned by a cooperative body at Abantiour Mondalpara in Bhatpara has depleted a 12-foot-wide road and begun to claim as many as 11 adjacent homes.
The fast-decaying edge of the "Padma Pukur" (as the pond is known locally), in addition to the increase in the waterbody's size, caused fissures on the walls of several homes.
The residents said they were being deprived of the only proper road for transportation and were being forced to move out for safety concerns.
Sources said repeated appeals to the Abantipur Bahumukhin Samabay Samity Limited (ABSSL) authorities for a guard wall for the road and repairs of their buildings had fallen on deaf ears. "Even Bhatpara municipality has not come to the aid of 11 families," said a source.
Following the submission of a mass petition by the residents, the municipality last week ordered a physical survey of the area. "A survey team will visit the area and the pond on December 11. They will identify the pond and the road as per the area map. Further action will be initiated on the basis of the findings," a municipal official said.
The sources said the Abantipur area in ward 35 had been allocated for the rehabilitation of refugees in the 1950s. "The land was owned by the cooperative, which was earlier known as Rahuta Union Cooperative Multipurpose Society. The cooperative sold the land to refugees. But many of the original allottees later sold their land. The cooperative rears fish in the pond," said a source.
The residents said the problem had started a few years back. "I constructed my house here in 2009 when I used to access my house through the 12ft-wide road that was parallel to the boundary of the pond. But, within two years, the topography of the area started changing."
Debnarayan Sinha, a retired jute mill worker and resident of Abantipur, said: "The road started wearing away and the lamp post collapsed because of the erosion. The pond is creeping up on our land. As the earth weakened, cracks developed on my house. I live in fear as the building could collapse any moment."
Anjali Sil, a homemaker who lost a portion of her land to the erosion, said: "The pond has came so close to my house that snakes often enter inside. We live in fear. Moreover, during heavy rain, the pond inundates the area."
The chairman of the cooperative, Dhiraj Mohan Das, said: "I have taken charge as the head of the new committee recently. I have to check the documents. The municipality ordered a physical survey anyway. We are waiting for it before taking further steps."
An official of the municipality said: "The problem is very serious. We called the residents and cooperative members for a hearing earlier. Later, we decided to conduct a survey to examine the real situation."