Hooghly erosion, soil removal for brick kilns blamed
River creeps up on homes in Nadia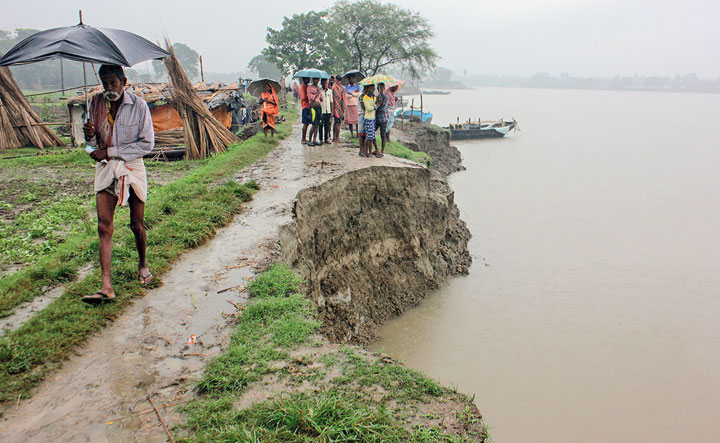 ---
|
Santipur
|
Published 27.10.19, 07:04 PM
---
Nearly 40 bighas (10 acres) of agricultural land were lost on Saturday night following erosion of the Hooghly embankment in Nadia's Santipur, with residents blaming soil excavation by the land mafia for supply to brick kilns.
Sources in Santipur said the eroded stretch in the Nrisinhapur-Choudhuripara area — which worsened late this week after a spell of rain — was barely 50ft from the main residential areas.
Residents have alleged that unchecked soil removal by the land mafia in the area is to blame. And with no immediate measures to protect their houses, the villagers say they have started moving to safer places this weekend. "At least we want to save our moveable possessions," said Bireswar Choudhury, a resident.
On Saturday, a team of irrigation department officials visited the area and assured villagers that preventive measures using sandbags would be taken soon."But we were not convinced. Later the same day, we lost our only mud road connecting the village to the fields. Now, the water is creeping close to our homes and is right by the edge of our only primary school," Choudhury added.
Sources said the erosion began on a 1km stretch of the embankment late on Thursday, shortly before the two-day spate of rain across several Bengal districts."The rain worsened the embankment's condition. It had been weakened earlier this month when floods in Uttar Pradesh and Bihar caused a sudden spike in the Hooghly's water levels," said a district official.
Sources said at least 130 families live in the Nrisinhapur-Choudhuripara area. "They work mostly as farm labourers and vegetable vendors in Kalna, a town in East Burdwan on the other side of the Hooghly," the official added.Residents said the recent threat to their homes was only the latest in a long line of troubles caused by the erosion.
"The erosion began claiming our agricultural land sometime ago. We could not grow or sell our produce and then we lost the road. It is happening as the land mafia operate in this area unchecked. They go about their business unscientifically and dangerously," an elderly resident said.Officials said river embankment erosion was common even in the absence of land removal, but agreed that such activities could be a contributed to the recent threat.
"Land mafia have political support and supply soil to East Burdwan brickfields. They have had altercations with villagers who have complained to police. But these days, the mafia have both political backing and their own guns," an official said. Sobha Sarkar, pradhan of the local Haripur gram panchayat, said" "The mafia's activities have weakened the embankment's top layer."
Santipur BDO Suman Debnath said: "The administration is aware of what is happening. The irrigation department has been informed and it is taking timely action before things get worse."