Hiss! Slithery visitor at Burdwan quarantine centre
Migrants plead: We didn't come back to die of snakebite, please clean building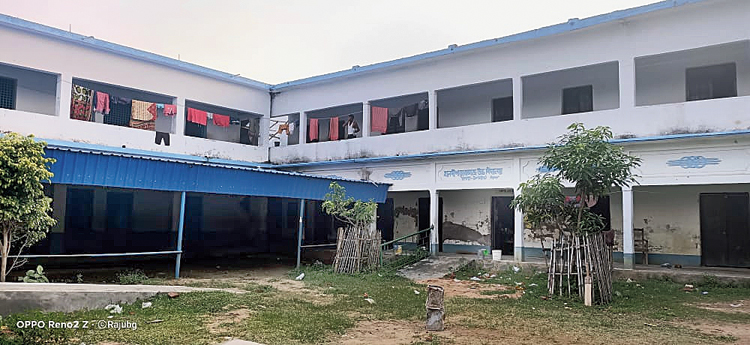 ---
|
Burdwan
|
Published 06.06.20, 11:42 PM
---
An unwelcome guest on Friday — a poisonous snake — in the toilet of a quarantine centre in East Burdwan's Kalna, has rattled a group of 45 migrant workers, including two women, staying there.
The migrants, quarantined at a school building that has been turned into a quarantine centre, said the snake was a krait.
Since Friday night, the quarantined migrants have been demanding adequate lights and cleaning of the Haldipara RC High School building.
Quarantined inmate Indrajit Pal said he was spared a "sure snakebite" as he had switched on his mobile phone's flashlight when he entered the toilet on Friday night. "I was barely two inches away from the snake. I was saved as I had turned on my phone's flashlight in the absence of any light in the toilet. I am lucky to be alive," Pal said.
He added that none of them at the quarantine centre had slept the night.
The Bengal state government has made it mandatory for migrants coming from five states, including Maharashtra, Delhi and Gujarat, to stay institutional quarantine for 14 days to contain the spread of Covid-19.
An official in Kalna said hundreds of school buildings had been acquired overnight for institutional quarantine after the flow of migrant workers returning to Bengal increased since mid-May.
"The schools remained closed since mid-March and had not been cleaned. As it is raining almost every day, snakes are trying to take shelter in such buildings. We have directed the local BDOs to ensure that the centres are free of snakes," said the official.
A source said the 45 migrant workers institutionally quarantined at the Kalna's Haldipara school since the past 10 days, had returned from states such as Delhi, Gujarat, Punjab and Haryana.
"We did not come back to die of snakebite. The bathroom and a large part of the school campus don't have lights. We informed the local panchayat member on this but nothing was done. We are just too scared," said Rocky Mondal, who returned from Delhi 12 days ago.
Trinamul gram panchayat member Sanyasi Das admitted to the problem: "I have informed the local administration. There is a pond beside the school and I think snakes are coming from there."
Kalna SDO Suman Sourav Mohanty said local block officials were looking into the problem.
However, the problem of snakes is not restricted to one quarantine centre. A migrant labourer, Biswajit Khara, was bitten by a poisonous snake at the Jadupur Primary School in West Midnapore and had to hospitalised on June 3 night. "He was saved as he was taken to the hospital within half an hour," a health official said.
In both Kalna and West Midnapore, inmates managed to kill the snakes.
Suri resident Dinabandhu Biswas, a biology teacher and member of Wildlife Crime Control Bureau, said rainwater forced snakes to wriggle out of their holes to look for shelter in dry places, including abandoned homes.