Himalayan Mountaineering Institute's breathe-easy aid easy on the pocket
Amid Covid-19, an automated Ambu bag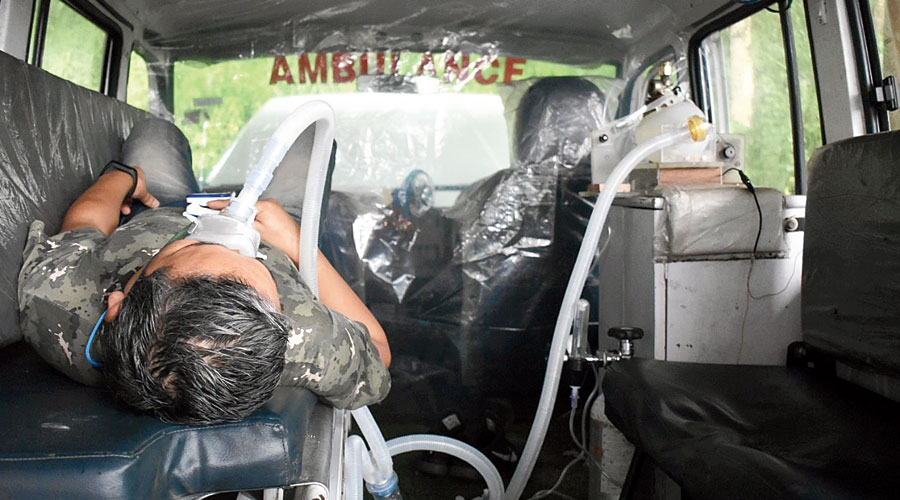 ---
---
The Himalayan Mountaineering Institute (HMI), Darjeeling, has come up with a low-cost innovation "for emergencies" amid the raging Covid-19 pandemic.
At a time paucity of ventilators is major concern, the climbers at HMI who have to rely on ingenuity to survive high altitudes, have quietly worked on a low-cost automated Ambu (artificial manual breathing unit) bag to help people with respiratory distress.
"It is no rocket science. It is no substitute for ventilators either. However, during an emergency this machine can help," said Group Captain Jai Kishan, principal of HMI and the moving spirit behind the device.
The HMI has for long used basic Ambu bags that climbers manually pump for oxygen during high-altitude sickness and breathlessness. The HMI's innovation was a system that automatically presses the Ambu bag in a controlled manner for six to eight hours at a time. The idea came to Group Captain Kishan during the start of the pandemic in March.
"We had 76 trainees then apart from 100 staffs at HMI. Talks about ventilator shortage had started," said Kishan, who started discussing with the institution's medical officer Captain Md Fasith and one of their trainees, a doctor named Itish Sood who had enrolled for an HMI course then, on whether something could be done.
A team comprising the principal, doctors and employees Sandipan Mondal and Havildar Babloo worked for two months on an automated resuscitator using available resources. "We innovated with a motor operated by batteries or electricity to pump oxygen for hours into the Ambu bag," said Kishan.
"The device is suitable for emergencies," said Captain Md Fasith. "The advantages of this automated resuscitator are size and portability. It can be moved easily, fitted in ambulances and homes."
The HMI has made two of these machines, he said. "A normal Ambu bag costs Rs 1,000. With motor, speed controller, frame and accessories, the cost of each device comes to Rs 3,500."
Right now, HMI does not have trainees, but most of its employees are staying in the quarters. Precautions against Covid-19 are a must, Kishan said. Automated resuscitator apart, HMI has made sanitisers, masks, face shields, a foot-pedal-operated tap and sanitiser dispenser.