Himalayan Mountaineering Institute honours Radhanath Sikdar
He was the first person to reckon the height of Mount Everest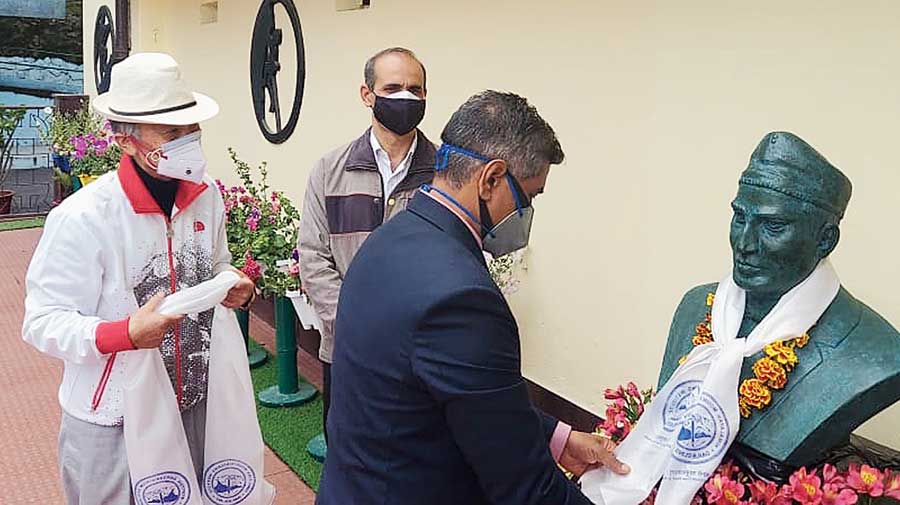 Group Captain Jai Kishan, the principal of HMI, unveils the bust of Radhanath Sikdar at HMI in Darjeeling on Saturday.
Kousik Sen
---
Darjeeling
|
Published 30.05.21, 02:20 AM
|
---
The Himalayan Mountaineering Institute (HMI) on Saturday dedicated a library after Radhanath Sikdar, the first person to reckon the height of Mount Everest whose contribution has often been overlooked in mountaineering annals.
"The HMI, under our Bharat Gaurav initiative, has taken a step to recognise our long-lost heroes and give them due respect. The HMI today renamed its newly renovated library building as Sikdar Bhawan," said Group Captain Jai Kishan, principal of the HMI.
In 1831, George Everest, surveyor-general of India, appointed Sikdar, at 19, as a "computor" and welcomed him to join the Great Trigonometric Survey. He was given a monthly salary of Rs 30.
Sikdar, a mathematician who specialised in spherical trigonometry, used data from six observations and calculated the height of Peak XV.
In 1856, it was stated that Peak XV was taller than Kanchenjungha. In 1865, The Royal Geographical Society pronounced the official name "Mount Everest" for Peak XV following Everest's successor Andrew Scott Waugh's suggestion to name the peak after his predecessor.
May 29 is celebrated as International Everest Day to mark the first ever successful ascent of Mount Everest by Darjeeling mountaineer Tenzing Norgay Sherpa and Sir Edmund Hillary from New Zealand in 1953. Tenzing's birthday is also celebrated on the same day.
The HMI also unveiled a bust of Sikdar and made public a newly constructed multi-utility hall named Bull Bhawan in the memory of Late Col Narendra "Bull" Kumar, an ace mountaineer who helped secure Siachen Glacier in the late 1970s and a former principal of the institution.
Sikdar breathed his last in 1870 at Chandernagore in Hooghly district.