Hill politics abuzz with meetings
No election has been announced in Darjeeling, though elections to the GTA, Darjeeling Municipality and panchayats are due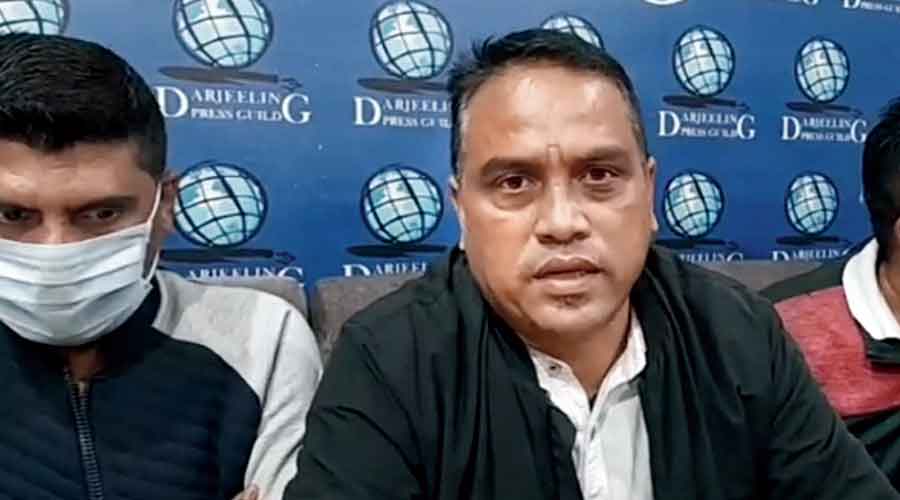 Gopal Pariyar, the Darjeeling town committee general secretary of GNLF, who resigned from the party on Tuesday.
Telegraph photo
---
Darjeeling
|
Published 01.09.21, 02:23 AM
|
---
Darjeeling resembles a place going for polls immediately when in reality no elections have been scheduled yet.
Hectic political activities are on in full swing as the hills are churning with new political alignments.
Major political entities in the hills such as Gorkha Janmukti Morcha factions headed by Anit Thapa, Binay Tamang and Bimal Gurung, and the Gorkha National Liberation supporters of Ajoy Edwards, who announced his decision to quit the party on Sunday evening, are holding meetings.
On Tuesday, Prabhaskar Blone, spokesperson of the GNLF Darjeeling branch committee, and Bimal Jhawar, adviser to the GNLF Darjeeling branch committee president Edwards, along with other GNLF leader like Udip Moktan, GNLF town president Robert Chhetri, general secretary Gopal Pariyar and others left the GNLF to support Edwards.
"I have decided to disassociate myself from the GNLF following developments centring around Edwards. I consider Subash Ghisingh my leader but I can still follow his principles and ideals without staying within the GNLF," said Blone. Ghisingh's son Mann now heads the GNLF. Edwards has accused Mann of sidelining him.
Meetings are a regular affair for the GNLF, too. On Sunday, a meeting of youths was held by the GNLF in Darjeeling that MLA Neeraj Zimba addressed.
Tamang, who said he would start his "third chapter" in politics after resigning in July from the Morcha that he formed in 2017, has been holding a series of meetings.
"From demanding an explanation on the donation collected as part of the GTA relief fund during the pandemic, to accusing the GTA officials of trying to help a certain political leader (read Anit Thapa) to levelling corruption charges in the GTA, Tamang is going hammer and tongs in these meetings," said an observer.
Thapa plans to launch his new party on September 9.
Gurung is also holding meetings almost every day. "Just a few days ago he started functioning from his party office in Singmari.Almost daily he meets supporters, reorganises committees and inducting new people," said a source.
Edwards is on his way from Ladakh by road and is expected to reach Darjeeling by September 5. His supporters plan to give him a rousing reception.
No election has been announced in the hills, though elections to the GTA, Darjeeling Municipality and panchayats are due.