Hena home attacked again in Kankinara
The 14-year-old girl had to flee to her grandmother's house and missed the school till the middle of August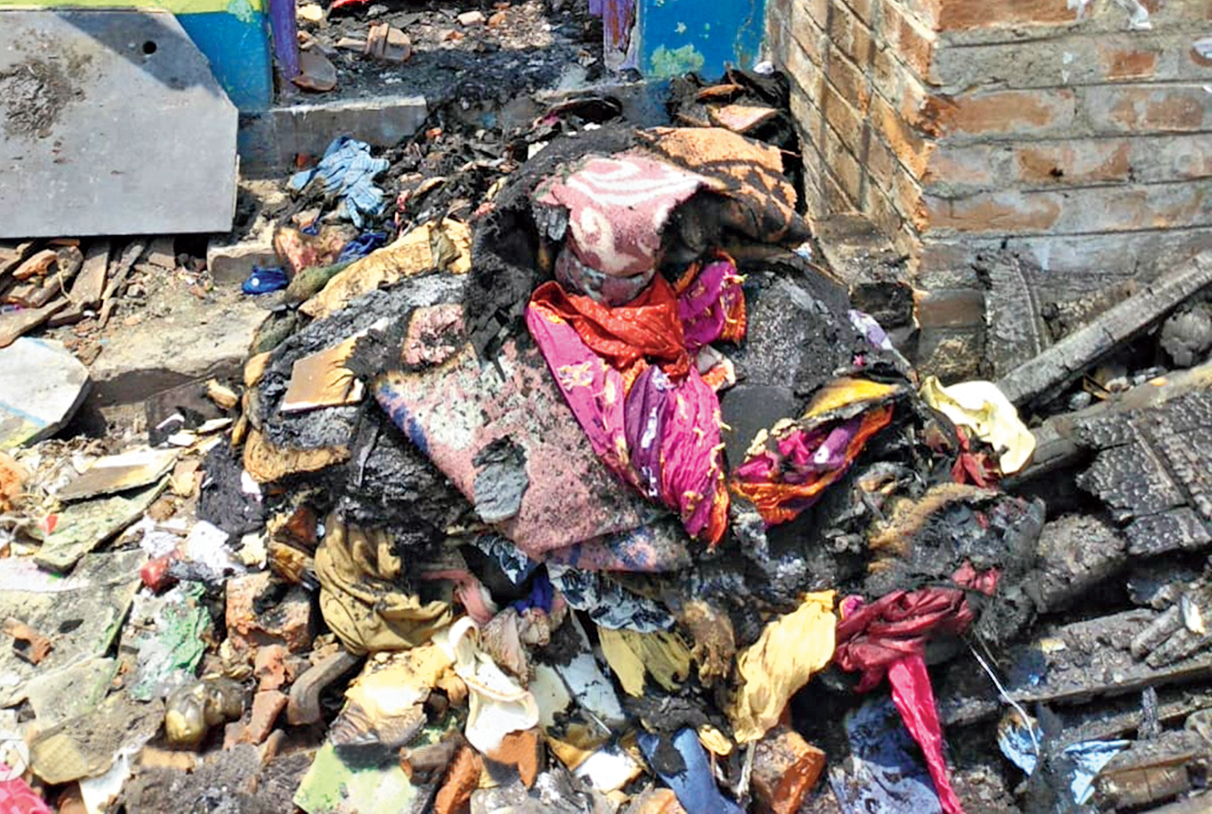 ---
|
Bhatpara
|
Published 31.10.19, 08:59 PM
---
Armed criminals hurled bombs and stones at the house of Hena Parvin, a Class IX student of the Shams Urdu High School in Kankinara, on Wednesday night and issued threats to the girl and her widowed mother.
This is the second attack on Hena's house.
On May 23, the day general election results were announced, attackers dragged Hena and mother Mehrun out of their home. They torched most of their possessions, including Hena's schoolbooks and uniform. .
The 14-year-old girl had to flee to her grandmother's house and missed the school till the middle of August.
The Telegraph published her plight on August 26, following which social worker Mudar Patheria sent to Hena study material — exercise books, pens — an umbrella, schoolbags, and shoes and socks through a friend. The school also eased rules to provide mid-day meals to the student.
Hena said on Thursday that she had returned home after her mother had repaired it in September.
"Miscreants hurled alt least eight bombs and stone at our home last night. They were carrying guns and threatened me and mother. They would have killed us had police not arrived on time. I don't know why they attacked us. There was trouble between two motorcyclists when we went outside to buy some food. But eventually, we became the target," said Hena, whose aspires to become a teacher.
The Barrackpore Lok Sabha seat — made up of pockets such as Kankinara, Bhatpara, Titagarh, Jagatdal, Kanchrapara, Garulia, Bijpur and Amdanga — had been simmering since May 23 evening, partly along fault lines that appeared recently in Bengal.
Bhatpara police have arrested five men, all outsiders, for the attack on Wednesday night. They started a case following a complaint lodged by Hena's mother, a tailor. A police team has been posted in the area.
"We had lost everything in the May 23 attack. I repaired my home and returned there so that my daughter could resume study. But things are not right even now", said Mehrun.
Hena said: "I have lost four precious months of study. I was trying to forget the horror of May. But last night's incident had left me panicked. it has become difficult for me to concentrate on study again."
A police officer said normalcy had largely been restored in the area more than a month ago. "Wednesday night's incident was a stray one".