To retrieve debit card, helpless customer locks up ATM kiosk
Chinmay Chakraborty says he tried for around 30 minutes and his calls to PNB's helpline number went unanswered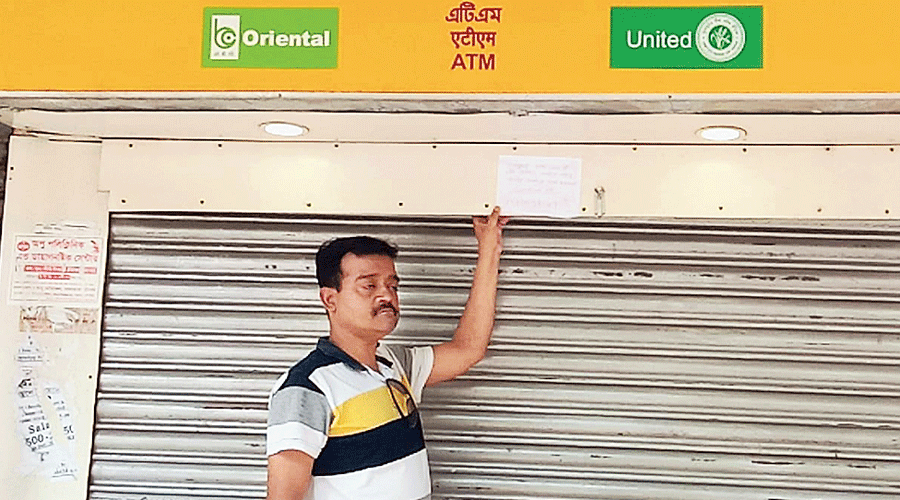 Chinmoy Chakraborty in front of the ATM counter in Mathabhanga town of Cooch Behar district on Sunday.
Main Uddin Chisti
---
Cooch Behar
|
Published 25.04.22, 03:10 AM
|
---
When Lord Hanuman could not tell the medicinal herbs apart, he lifted an entire hill and took it to the battlefield, according to the Ramayan. When Chinmay Chakraborty's debit card got stuck in an ATM in Cooch Behar district on Sunday afternoon and his calls for help went unanswered, he locked the entire kiosk to protect his card.
Chakraborty, a resident of Ward V in Mathabhanga town in Cooch Behar, had visited an ATM counter of Punjab National Bank at Chowpathy, a prominent crossing, to withdraw cash around 1pm.
As he inserted his Central Bank of India debit card into the ATM slot, the machine stopped. He could not withdraw cash, nor would his card come out of the machine's slot.
Chakraborty said he tried for around 30 minutes to retrieve his card and then called PNB's helpline number. There was no response.
Around 1.30pm, he downed the ATM's shutters, arranged for a lock and key and locked it.
"My debit card is stuck in the slot and I am concerned that it might be misused. That is why I locked up the ATM," he said. He then sat in front of the ATM counter for a couple of hours in the hope that somebody from the bank would turn up.
No one did. At 3.30pm, Chakraborty scribbled a note in Bengali on a piece of paper about what he had done and why, wrote his cell phone number, and pasted the note on the shutters.
Residents who saw Chakraborty lock the ATM kiosk alleged that its services were irregular. "Most of the time, cash is not available at the ATM. There are connectivity issues. We often face problems with the machine. Many of us have requested the bank authorities to sort the problems out but there is no improvement," a resident said.
Officials of the bank's local branch could not be contacted.