Have not stepped out since Sunday in Italy
Italy is in lockdown because of the coronavirus outbreak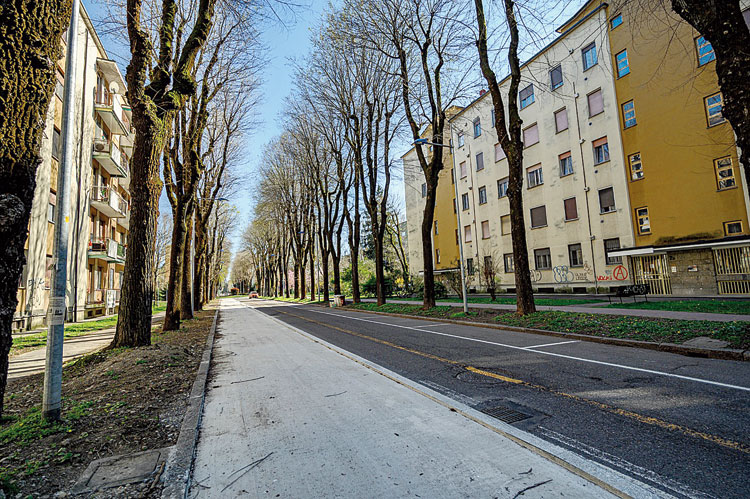 A deserted street in San Donato Mailanese in Milan.
Picture by Dipanjan Bhattacharya
---
Calcutta
|
Published 11.03.20, 09:02 PM
|
---
Dipanjan Bhattacharya is a scientist at IFOM, a molecular oncology research institute in Milan. Dipanjan, from Harinavi, stays in San Donato Mailanese in Milan. He recounts his experience.
I have walked barely 100 metres outside my home in Milan over the last six days.
Since the lockdown was announced on Sunday, I have not stepped out. Usually, I walk about half a kilometre to the nearest Metro station and get off at a point from where I walk about 1.5km to my office.
I have just heard that the Metro and bus-tram services will be closed from tomorrow.
Before the coronavirus outbreak, I would go to a restaurant twice or thrice a week. Friends and colleagues, many of them from Milan, would come over on Saturday evenings.
I am a fan of Barcelona but have watched AC Milan matches at stadium. Now, all restaurants and pubs are shut.
The places of public gathering have been closed down. All Serie A (Italian football league) matches have been cancelled.
Milan has been declared a "red zone" for the coronavirus. No one can enter Milan and no one can leave unless on "extremely important" business.
All schools, colleges and universities are closed for an indefinite period. The "red-zone" alert is till April 3 but that might be extended.
The commune (equivalent to a municipality in Calcutta) authorities have dropped lockdown instructions in our letterboxes. There are announcements and advertisements in newspapers and TV, too.
I was receiving constant communications from my institute. Initially, they said if someone worked from home, it would be a paid holiday.
But on Sunday, I learnt that only those with extremely important work should go to the institute. Since biological research is conducted at our institute, a few people have to keep the facilities running. There are live animals, too.
I am working from home and managing meetings through video-conferencing.
From my window I can see buses plying. Those are absolutely empty. When I went to the nearby supermarket, all the essential items were available. There were people at the counters wearing full-sleeve jackets, gloves and masks.
One person was spraying disinfectant on the glass covers.