Gurung's party ups ante for Gorkhaland
Morcha hosts two-day meet for suggestions to scale up movement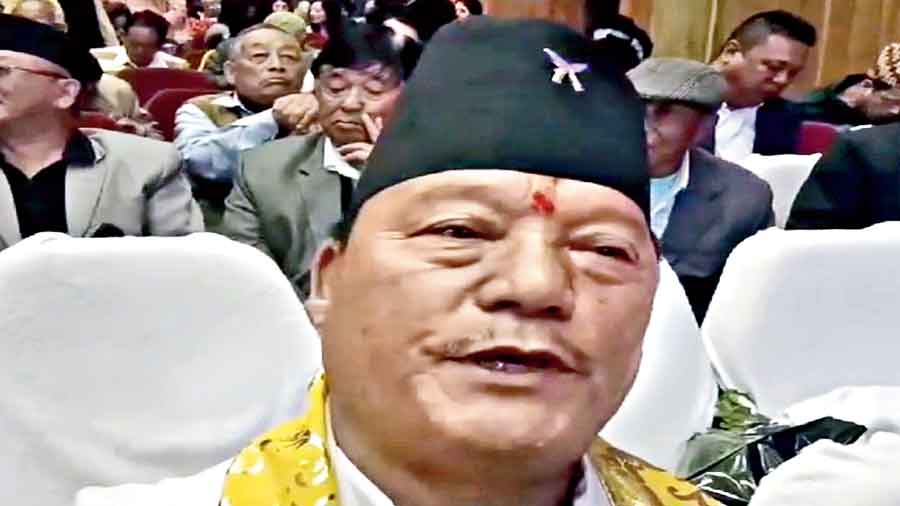 Gorkha Janmukti Morcha president Bimal Gurung at the seminar at the GDNS Hall in Darjeeling on Saturday.
Passang Yolmo
---
Siliguri
|
Published 11.09.22, 02:36 AM
|
---
The Gorkha Janmukti Morcha has planned to draw support from the Gorkhas across India to drum up support for their longstanding demand of statehood.
On Saturday, the party led by Bimal Gurung, started its two-day seminar in Darjeeling on "Ek Yatra, Ek-e Lakshya, Chhutai Rajya Gorkhaland" (one journey, one motto, separate Gorkhaland state) to which it has invited like-minded political forces and social organisations to suggest how they can join hands for a movement on the issue.
"From now on, we have decided to organise our movement for Gorkhaland in Delhi and not to restrict it to Darjeeling. We will host seminars to build a consensus and expedite the process of forming a national level committee to carry forward the movement for statehood with larger participation of Gorkhas," Gurung, the Morcha president, told the media on the sidelines of the seminar.
Since 2007, when Gurung walked out of the GNLF and floated the Morcha, the party has been steadfastly advocating statehood. However, in due course, the Morcha got fragmented and many prominent leaders walked out of it. Some joined other parties, others floated new political fronts.
As a result, the support base of the Morcha weakened, as was evident in some recent elections where the party failed to make much impact. According to political veterans in the hills, the statehood movement is the Morcha's revival plan. "Also, unlike other regional parties that have kept their political activities limited to hills so far, the Morcha chief seems to seek support in all areas where Gorkhas live," said an observer.Darjeeling and Kalimpong apart, there is a considerable population of Gorkhas in Uttarakhand, Assam and some Northeast states.
Gurung took a dig at his political rivals. "Till 2017, we organised our movement for separate statehood in a democratic manner. But some people turned it undemocratic as they want to stay in power. It is unfortunate that after 2017, common people like tea workers and farmers suffered but those who are supposed to speak and work for them, didn't do anything," he said.
Roshan Giri, the general secretary of Gurung's party, was equally vocal on the issue and said their demand should be heard."Back in 1992, our language (Nepali) got recognition under the Eighth Schedule (of Indian Constitution). But till date, we didn't get a separate state. We believe raising a nationwide demand in an united manner can help us achieve it," said Giri.