GTA push to angling tourism with golden mahseer - Hill body to promote fishing in Teesta and Rangit with help from tour conductors and UK organisation
Read more below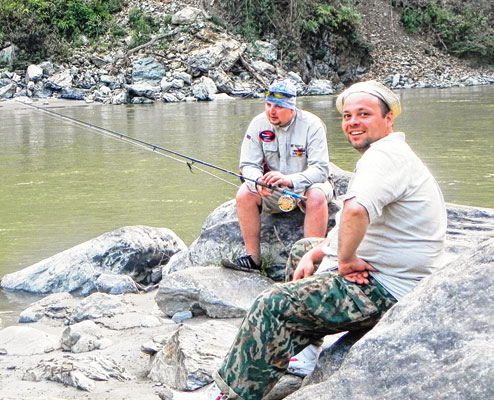 ---
Published 22.12.14, 12:00 AM
|
---
The next time you head to the Darjeeling hills you can also pack your fishing kit.
The Gorkhaland Territorial Administration has taken up an initiative to promote angling tourism along the Rangit and Teesta rivers that flow through the region.
Teesta and Rangit are among the few rivers in north Bengal where the golden mahseer, a fish that can weigh up to 40kg, can be found. 
Tourists visiting north Bengal are not known to try out their angling skills although a lot of local people are into it.
Jyoti Kumar Rai, executive GTA Sabha member in-charge of the fisheries department, said: "We are realising the potential of angling tourism and in the next few days we will finalise the details. We will introduce fishing licence in the area, earmark spots for fishing and create the required infrastructure."
Chandan Gupta, director of Calcutta-based Rogue Anglers' Company, that promotes angling in the country, is helping the GTA with the project. "Golden mahseer is known as the aquatic tiger of the Asian sub-continent and is a much sought after trophy fish as it is one of the toughest game fish (fish caught for sport) around. The moment you say golden mahseer can be fished, there will be hundreds of foreigners rushing to the place," he said.
A golden mahseer is known to be a strong fish and can it weigh up to 40kg which makes it a difficult catch.
Gupta, who conducts fishing vacations across the country, said in north Bengal golden mahseer is found from Jorethang in Sikkim to Sevoke in Darjeeling district. 
"But of late you can only find those that come to the cold waters for spawning at Tribeni (the junction where the Teesta and Rangit rivers meet) and along the stretch (in the Teesta) till Kalijhora and Sevoke that is in GTA area," said Gupta.
According to him, there are about 10 lakh registered rod and reel anglers in India. "We also have lot of clients from UK, USA, Israel, Netherlands and Russia. This is basically high-end tourism and we charge about USD 2,000 per person for a short fishing vacation in north Bengal," said Gupta.
He added that anglers are known to bring equipment worth up to Rs 10 lakh for such holidays.
Foreigners, however, do not take their catch home. "They merely take photographs, measure and weigh the fish (if it is a golden mahseer) and let them off," said Gupta.
Rai said the GTA was also looking at encouraging anglers to let go of their catch. 
"We will strictly monitor to ensure that the fish caught by tourists is not taken," he said. 
In India, angling tourism is popular in places like Uttarakhand, Karnataka, Jammu and Kashmir and Himachal Pradesh. 
"All these places have a practice of issuing licence for a nominal amount," Gupta said. "We will involve the Mahseer Trust, an international non-profit organisation based in the UK, to promote north Bengal as an angling destination."