GTA elections after final voter list, says Mamata Banerjee
Her announcement assumes significance as this is the first formal declaration that the two key polls will be held soon in the region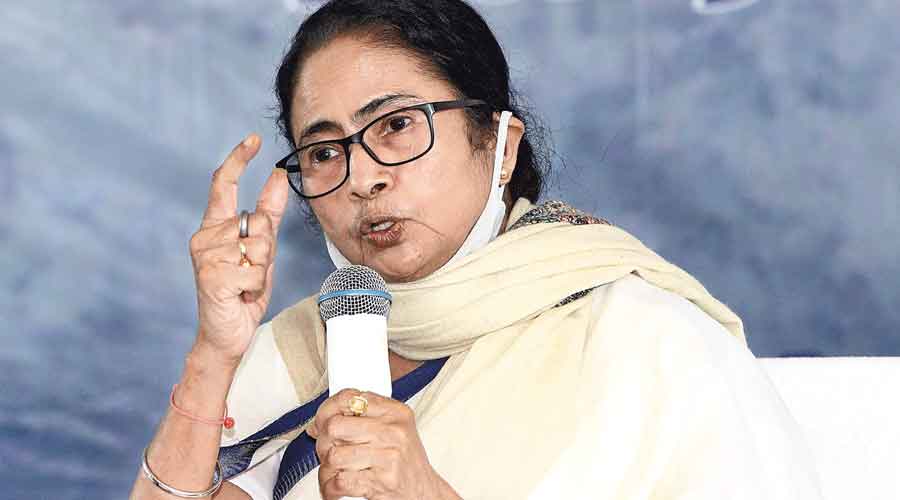 amata Banerjee at the administrative review meeting of Darjeeling and Kalimpong districts at Kurseong on Tuesday.
Telegraph photo
---
Kurseong
|
Published 27.10.21, 01:35 AM
|
---
Chief minister Mamata Banerjee on Tuesday announced that elections to Gorkhaland Territorial Administration (GTA) would be held soon and initiative would also be taken to hold panchayat elections.
Her announcement assumes significance as this is the first formal declaration that the two key elections will be held soon in the region.
Elections to GTA are due since 2017. The last one-tier panchayat election (gram panchayat) was held 21 years ago in the hills.
"Right now, the voter list is being revised, once this is done, we will go for GTA elections," Mamata said during an administrative meeting held in Kurseong.
Administrative sources said that the revision of the electoral roll will start from November 1 and be completed by January 5. This essentially means elections can be expected by January-end, said a source.
The chief minister sought the opinions of both Anit Thapa, president of Bharatiya Gorkha Prajantrantik Morcha, and Roshan Giri, general secretary of the Gorkha Janmukti Morcha , who were specially invited to the administrative meeting, on holding the elections. Giri and BGPM MLA Ruden Sada Lepcha also sought elections to panchayats. While these two leaders sought a two-tier panchayat elections (gram panchayat and panchayat samity), the chief minister talked about three-tier panchayat polls (the first two and zilla parishad) in the hills.
"Regarding panchayat there is an issue of upgrading from two-tier to three-tier for which a constitutional amendment. We will take up this issue, too," Mamata said.
In 1992, the Constitution was amended to set up a two-tier panchayat in the hills comprising a gram panchayat and panchayat samity unlike the rest of Bengal where a three-tier system with the zilla parishad as the highest tier exists.
No constitutional amendment is needed to hold two-tier rural polls.
The other major political announcement made by Mamata was the formation of a steering committee to suggest "a permanent political solution" and development avenues for Darjeeling hills.
Anit Thapa, Roshan Giri, Amar Singh Rai, former Darjeeling MLA now with Thapa's party, and Trinamul leader and former minister Gautam Deb were some names announced by the chief minister for the steering committee.
"You give me feedback on the permanent political solution you want… I will come up with a permanent political solution. I don't only just say things but I also fulfill them," Mamata said, adding she wanted peace in the hills.
A permanent political solution is a phrase coined by BJP in its election manifesto, the provision of which has not been specified by the saffron party.
During the Bengal election campaign Mamata had also said she would come up with a permanent political solution.
Roshan Giri had earlier said that they wanted an autonomous body under Article 244 (A) of the Constitution which is a provision for a "state within a state" but for Assam.
Thapa said he would consult his party leaders and experts and draw up their proposal.
The general understanding following the discussion at the administrative meeting suggests the hills will go for a GTA election in the next three-four months, followed by municipality elections and probably two-tier panchayat elections. In the meantime, an exercise would also be undertaken to come up with "a permanent political solution" for the region.
Mamata made it clear that she has much confidence in Anit Thapa but also gave space to Roshan Giri.
Bimal Gurung had on Monday said that he would not contest GTA elections if they are held and would instead concentrate on a permanent political solution.
"It would be interesting to see how Gurung reacts once the election schedule is announced," said a hill observer.
The chief minister also reprimanded Trinamul leader and Rajya Sabha MP Shanta Chhetri twice during the meeting for "indiscipline" and for making public statements against Anit Thapa recently.
"Anit is my friend in the hills," Mamata told Chhetri.
Mamata also asked Chhetri to meet state power minister Aroop Biswas. Chhetri had made a statement on Monday which many had interpreted was against Aroop.