Graft ire greets Bengal minister duo
Rabindranath Ghosh and Gautam Deb faced a barrage of complaints about alleged corruption of Trinamul leaders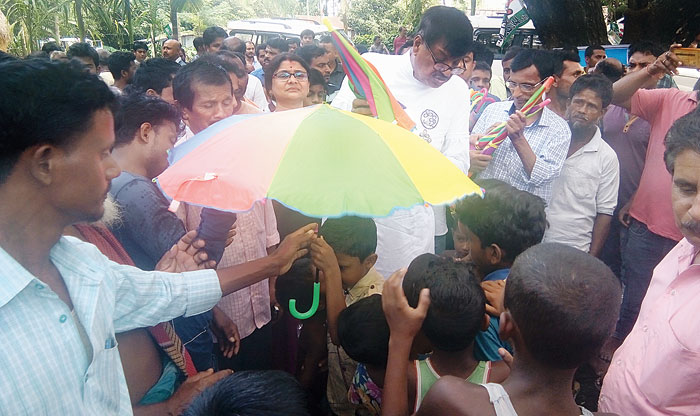 Rabindranath Ghosh hands out an umbrella as part of the Didi Ke Bolo campaign
Picture by Main Uddin Chisti
---
Cooch Behar
|
Published 02.08.19, 08:43 PM
|
---
Bengal ministers Rabindranath Ghosh and Gautam Deb faced a barrage of complaints about alleged corruption of Trinamul leaders while touring their constituencies on Friday as part of the "Didi Ke Bolo" campaign.
Ghosh interacted with locals and distributed T-shirts, umbrellas and cards to party workers bearing the phone number on which chief minister Mamata Banerjee can be contacted in the outreach initiative.
Other than claims that people had to pay money to Trinamul leaders, Ghosh had to hear grievances that the party and the administration had been "sitting silent" on BJP cadres' alleged intimidation of ruling party supporters. The BJP snatched the Cooch Behar Lok Sabha seat from Trinamul this time.
In Anchalpara, as Ghosh was speaking on ways to popularise "Didi Ke Bolo", Emdadul Haque, a Trinamul supporter, burst out in protest.
"Seven years ago, I had paid Rs 7 lakh to a person in Tufanganj who claimed to be a Trinamul leader. He promised a job for my son. But till date, my son is unemployed. I have approached other leaders but neither my son got a job nor did I get the money back. You should see to it and prevent such practices," he told Ghosh.
In Charerpar, Rokeya Biwi, a Trinamul supporter, vented her ire. "I want to know why we have to inform Didi about the bad roads in our village. Why can't the leaders and ministers here take steps to provide drinking water?" Rokeya told the minister.
"Also, many of us are facing problems as BJP supporters often intimidate us and tell us to join their party. The (Trinamul) leaders should see that the police take steps to ensure we do not face such threats," Rokeya, a homemaker, added.
In Jalpaiguri's Chotarfafri, Deb heard similar complaints when he visited seven homes, with most residents unhappy about illegal land deals.