Govt schools in rural belt stare at teacher scarcity
Reason attributed to transfer to urban areas in recent months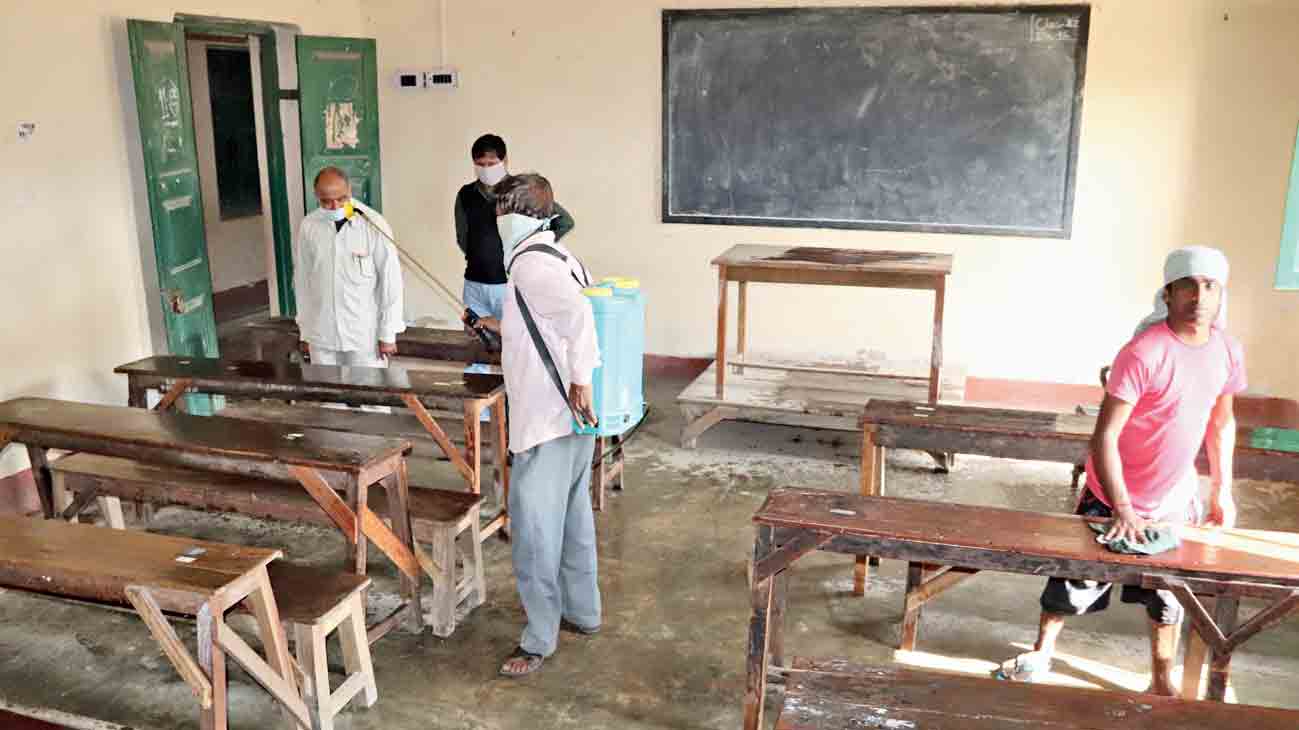 A classroom being sanitised at the Burdwan Municipal Boy's School in Burdwan on Wednesday
Munshi Muklesur Rahaman
---
Bolpur(Birbhum)
|
Published 03.02.22, 03:52 AM
|
---
Many state-aided schools in districts, particularly those in rural areas, are staring at a fresh challenge in running classes on the campus as well as in the neighbourhood following a dearth of teachers as many from rural pockets got transferred to the urban areas in recent months.
The state government has ordered physical classes for students from Classes VIII to XII from  Thursday and classes for Classes V-VII in open areas of the neighbourhood under Paray Pathshala from February 7.
"I have only seven teachers right now as three of them were transferred to other schools. Of the existing seven, two are on maternity leave right now. So, it has become an impossible task for us to run  physical classes in our school and neighbourhood classes for around 750 students," said Pijush Kanti Ghosh, headmaster of Amdol High School in Birbhum's Murarai.
It is not Ghosh's problem alone. Most schools in rural areas are facing a severe dearth of teachers as many teachers were transferred to urban schools. The rush in transfers increased since last year after the state government decided to allow teachers to join schools located near their homes.
The state government launched the Utshashree portal last year to make transfers easy for teachers. Education department officials said around 20,000 teachers had already moved to schools closer to their homes.
"Taking advantage of the (Utshahree) facility, a number of teachers posted in the rural areas have opted to join schools in urban areas near their homes. But the state government did not take any step to fill up the consequent vacancies in rural schools. Failure to recruit new teachers owing to pending court cases has made the problem really acute," said a state government official.
"Ninety per cent of the teachers who were transferred from rural areas have been adjusted in urban pockets. Only 10 per cent of the teachers seeking transfer wanted to move to rural schools from urban areas," said Chandan Maiti, the general secretary of Advanced Society For Headmasters and Headmistresses, explaining the imbalance.
Maiti, who is a headmaster of Krishnachandrapur High School in South 24-Parganas, said he had over 1,000 students in his school of whom many were from different districts and police station areas because the school had hostel facilities.
"Under the circumstances, it possible for us to reach out to all students here? Maiti asked. "In its order, the government asked us to communicate with the local bodies to arrange classes in the neighbourhood but we are not getting proper response," he added. Sources said there are 12,500 secondary and higher secondary schools across Bengal along with 1,500 high madarsas. 
Teachers said they were confused as to how to hold classes in neighbourhoods as many students come to a specific school from far-flung villages and it was hence difficult to zero in on one place.
Shortage of teachers had aggravated the problem logistically, the headmaster of a school in West Burdwan's Durgapur said. "I have only 13 teachers for 900 students here. The students are from several villages and areas. If I want to conduct classes in the neighbourhood as well, it would be a challenge to run the school. So, after discussing with parents, we have decided to hold classes (meant for the neighbourhood) in our school community hall," said Prashanta Kumar Das, the headmaster of Bajitpur high school in Birbhum.
Additional reporting by Anshuman Phadikar