Mamata Banerjee government woos Deocha with water, roads
Officials said the initiatives were taken after proposals from residents of various areas of the proposed coal mine project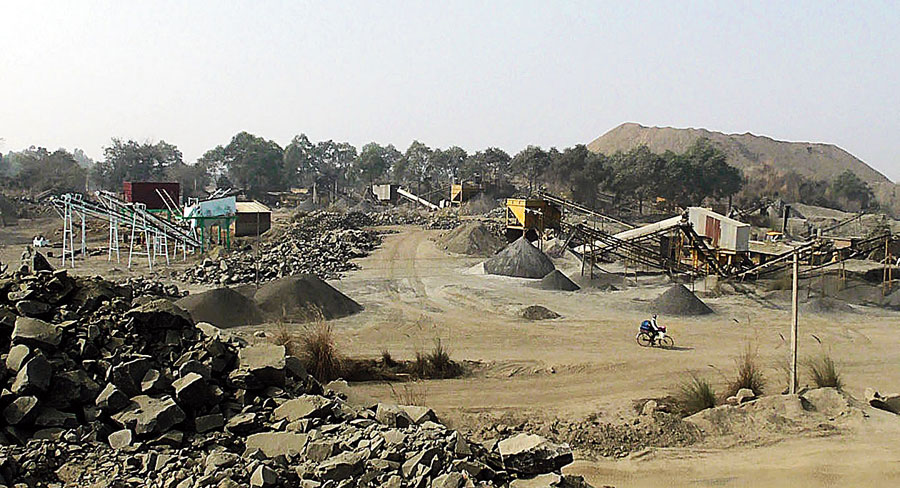 Deocha-Pachami project site.
File photo
---
Suri
|
Published 30.11.21, 03:50 AM
|
---
The Mamata Banerjee government has initiated a set of development projects, including roads, water supply and handlooms, worth around Rs 100 crore in areas of the proposed Deocha-Pachami coal mine project, in a bid to woo the region's tribal people who have expressed their resentment over the lack of such infrastructure.
Officials said the initiatives were taken after proposals from residents of various areas of the proposed coal mine project.
"There were demands for roads, water projects and other infrastructure from the tribal people and their representatives. Besides over 20 roads and four water projects, we will also open a hand-weaving unit for the manufacture of traditional tribal attire," said Birbhum district magistrate Bidhan Ray.
Sources said Birbhum zilla parishad has been assigned to make 21 roads in areas under the coal mine project. The parishad has sanctioned around Rs 30 crore for roads, and work on two has begun.
Four major roads from NH14 would be constructed to connect villages of coal mine areas such as Harinsingha, Hatgachha and Dewanganj.
"All the new roads will fulfill the demands of the local people and meet the needs of the government as well, as road link is crucial to the project. Some tribal leaders told us they want to be rehabilitated near coal mine project areas. So, these roads will help us connect better with rehabilitation colonies," said a senior government official.
Four water projects have been planned in Hatgachha, Puratangram and Deocha.
Under the water projects, a pump would be set up in Dwarka river and piped water would be supplied to 18 local tribal hamlets.
"The four water projects will cost around Rs 50 crore in all," said a senior official, adding that people would get water at home.
Senior officials said as the project is a cherished dream of the chief minister, who announced the rehabilitation package and specifically said the land in Deocha-Pachami would not be acquired like in Singur during the Left regime, the state government has been focusing on winning hearts.
"We are heeding every demand coming to us from various corners and trying to fulfill those from the government's end. We will sit with villagers, and our officials may visit every doorstep to explain how the government cares about them before we start any work," said DM Ray.
Officials said that the package announced by Mamata is "very lucrative", with the price for land offered at thrice the market rates, and a state government job for a member of each affected family.
"In a few places, outsiders have been trying to provoke villagers, but no refusal has directly come to us. Most people said they would like to have some things added to the package," said a senior official.
The state government has decided to start mining in its own land, but will wait for a month to get more responses from the people of the locality.
In recent times, the BJP and some other platforms have started getting in touch with some tribal people.
On November 25, around 150 villagers of Harinsingha sat in a meeting headed by village chief Joseph Marandi, and decisively vowed against giving land. However, within 24 hours, the village chief changed his statement and promised to sit for dialogue, after a meeting with leaders of Trinamul and tribal outfit Birbhum Adivasi Gaonta.
"We had proposed around a dozen roads and four water projects based on demands of the villagers. We welcome these initiatives," said Rabin Soren, secretary of the tribal outfit.