Darjeeling: GTA gives jobs to kin of deceased agitators
Chairman Anjul Chouhan, along with vice-chairman Rajesh Chauhan and some others, hand over appointment letter to 13 candidates at Lal Kothi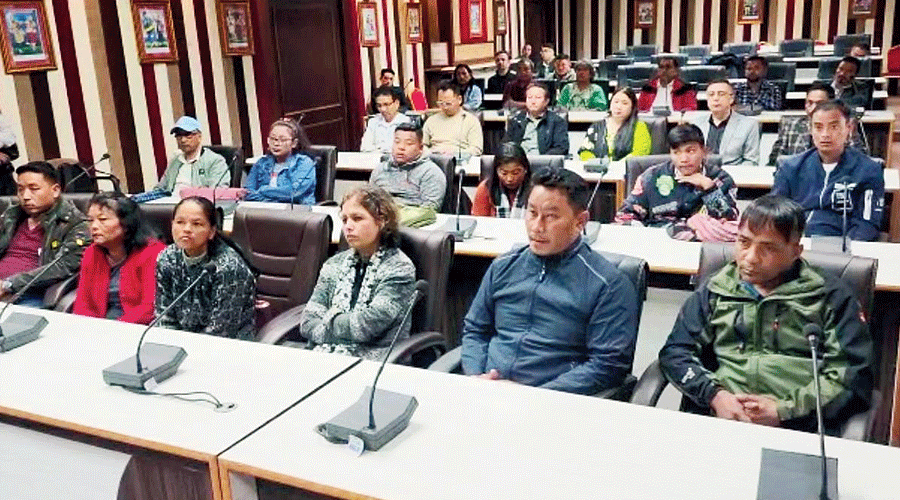 The candidates who got jobs, at Lal Kothi, the headquarters of the GTA, in Darjeeling on Thursday.
The Telegraph
---
Siliguri
|
Published 09.09.22, 12:47 AM
|
---
The Gorkhaland Territorial Administration (GTA) on Thursday gave jobs to the kin of 13 of the 17 persons who had died during the agitations demanding a separate Gorkhaland in the hills since 2007.
On July 27 this year, Anit Thapa, the chief executive of the GTA, who is also the president of the Bharatiya Gorkha Prajatantrik Morcha (BGPM),  announced that jobs would be given to a family member of each of the 17 persons who had died during the agitations.
Every year, Martyrs' Day is observed in the hills as in 1986, 13 people had died in a police firing while they were demonstrating against the India Nepal Friendship Treaty and were burning copies of the treaty.
The GNLF, which was spearheading the agitation then, had said that Article VII of the treaty, which allows free movement of Indians and Nepalese in each other's country, is acting against the interest of Indian Gorkhas.
On Thursday, GTA chairman Anjul Chouhan, along with vice-chairman Rajesh Chauhan and some others, handed over the appointment letter to 13 candidates at Lal Kothi, the GTA headquarters in Darjeeling.
"They have been recruited in departments of GTA like tourism, education and agriculture in Group C and D posts, depending on their qualifications. It was a commitment of the chief executive and we could meet it," said an executive member of the hill body.
Earlier this year, the GTA elections were held after a gap of 10 years. The BGPM, headed by Thapa, managed to secure a majority of the seats and is running the hill body.
Chouhan , the chairman, said from the GTA's side, the recruitment was a homage to those who lost their lives during the agitations.
"We hope the jobs will help the families who have lost their near and dear ones," he said.
The move to provide jobs to these people is yet another attempt by the BGPM to prove its sincerity in standing by the affected families.
"It seems that Thapa's party intends to drive home the point that it has recognised the contributions of those who died during the statehood agitations, which were witnessed in the past 15 years. As there are indications that rural polls would be held in the hills soon, such efforts can help the BGPM win peoples' support," said a veteran in hill politics.