Gifts from 2019
The Telegraph Salt Lake predicts some facilities that would kick off this year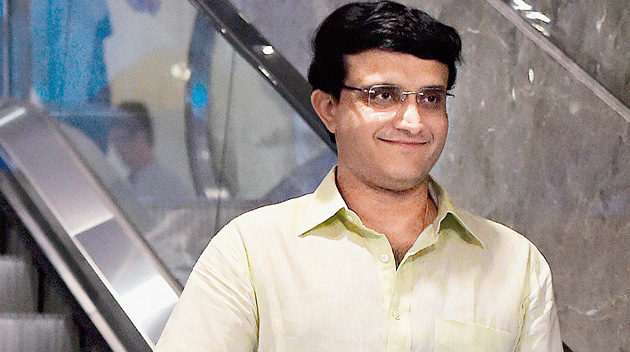 Sourav Ganguly's school in New Town will be operational from April.
The Telegraph picture
---
Calcutta
|
Published 04.01.19, 01:17 PM
|
---
Sourav's school
Sourav Ganguly's school in New Town will be operational from April, the former India cricket captain has said. The Sourav Ganguly International School is located "a stone's throw" from Biswa Bangla Convention Centre and will offer pre-school to college level education. During the Left Front rule, the former cricketer had failed to set up a school in Salt Lake following objections from residents. The present plot in New Town has been given on lease to Ganguly for 99 years. Solar dome
A solar-powered dome-shaped auditorium-cum-exhibition hall will open in Eco Park. The dome is coming up near the Herbal Garden in the park and work has been on since 2017. It would have a ground-level diameter of 45m and a height of 27m with three levels. The first level will showcase Hidco projects and the upper two will focus on art and culture. The top floor would also have a viewing gallery. The exterior of the dome would be fitted with solar panels to sustain its energy requirement. Kolkata Gate
The 55m-high Kolkata Gate is as good as ready and should open soon. The 10ft-wide and 60m-long viewing gallery is made of steel and toughened glass and the facade is made of toughened glass with laminated silicone sheets to withstand strong winds and extreme heat and cold. The Gate would have a viewing gallery and cafeteria encircling the structure from inside, about 25m above the road. No more than 100 people will be allowed up at any given time.
More food courts
Three more food courts will open near Ecospace, near Sukhabrishti and near the additional commissioner of police's offfice. Work has already started to accommodate around 250 stalls in total. Hawkers, including the ones selling vegetables and fish in shanties near Sukhobrishti and Elita Garden Vista, will be shifted there.
Canal bank walking track
The canal that flows by Home Town and Axis Mall and connects Kestopur and Bagjola canals will have a beautified walkway on its banks for people to jog and walk on. There will be benches and greenery and proper lighting on the 3km stretch.
Nazrul Tirtha library
Nazrul Tirtha, in New Town, will soon have a library with conventional books as well as e-books and a digital archive of journals and magazines. Members will be able to download e-books on Kindle for a fee, the kids section will be a colourful one with have interactive toys and knowledge-based games besides books. The teenagers' section will have space for youth to engage in group studies and there will be provision to deliver books to senior citizens at their doorsteps. Pet creche & burial ground
A creche and clinic for pets will open near Upasana Ghat in New Town. The creche can accomodate about 10 pets at a time. Each booth with have fans to keep the inmates in cool comfort and gaps in the wirings of the cages through which they can get a clear view without escaping. A drainage system has been planned so each booth can be regularly cleaned. A fenced up patch of land would allow the inmates to go on strolls. The burial ground will be behind the creche. A notice inviting bids have been invited by NKDA from interested operators. Green light to Metro
Metro trains will start plying from the Sector V station till Salt Lake Stadium and vice versa this year. Trial runs are on almost everyday and the signaling system has already been installed on the line. The platform screen doors that have been installed might not be functional though as there has been a delay in the arrival of a software from Japan for an upgraded signalling system that works in sync with the doors.
Now the overhead Metro corridor near City Centre and Karunamoyee has received a fresh coat of paint while workers are readying the infrastructure at the stations. Boards depicting maps of surrounding areas near the stations are also being placed near the staircases of the stations.
Rabindra Tirtha underpass
A network of underpasses equipped with escalators will be constructed at the Rabindra Tirtha crossing, below the Kolkata Gate, to enable pedestrians to safely cross the six-lane Major Arterial Road that cuts through the township.
Presidency courses
Postgraduate and doctoral courses would start at the Rajarhat campus of Presidency University in July.