Gender stereotypes broken: Tribal girl performs Saraswati Puja
Chaitali Murmu decked in the traditional tribal attire performed puja that was attended by as many as 40 other students, their parents and a few villagers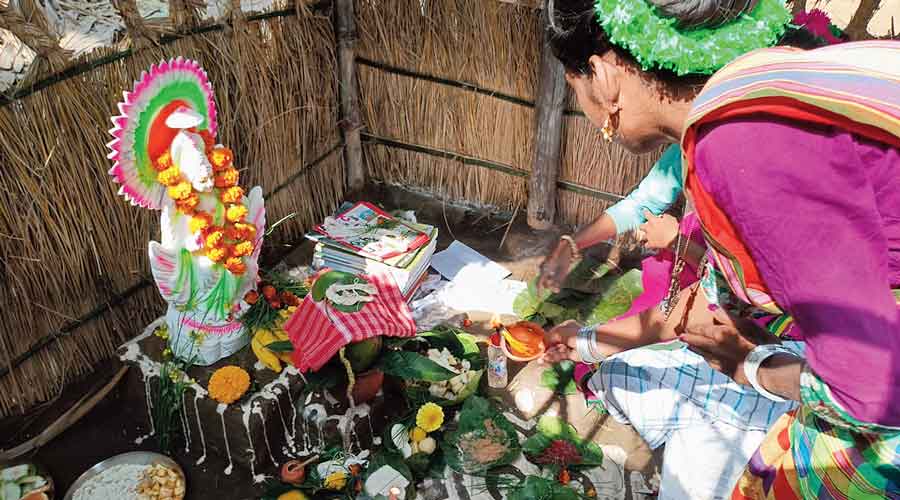 Chaitali Murmu, the girl who performed the role of the priest at Saraswati Puja at a hamlet in Birbhum, on Saturday.
Amarnath Dutta
---
Bolpur(Birbhum)
|
Published 06.02.22, 01:49 AM
|
---
The glass ceiling of caste and gender discrimination was breached at a tribal hamlet in Birbhum's Illambazar, around 9km from Santiniketan, when a 12-year-old girl donned the mantle of a priest to perform Saraswati Puja on Saturday.
Chaitali Murmu decked in the traditional tribal attire performed puja that was attended by as many as 40 other students, their parents and a few villagers.
Traditional tribal instruments such as the dhamsa-madol were used instead of the usual dhak (drum) or ghanta (bell) and green sal leaves were used to offer prasad, to keep the "flavour of tribal culture" intact.
"I am really enjoying worshipping in my own style with the help of only a book. I never thought that I too could perform puja one day. It was a very new experience for me," said Chaitali.
Residents said the idea came from Pritikana Jana, a 28-year-old woman pursuing Masters in law from Raiganj University, who has been running an open-air school for children of Gopalnagar village in Illambazar after the pandemic led to closure of schools.
Pritikana has named her open-air school Rubani-Gautam Sikshangan where tribal children are imparted free coaching and study material.
"The students wanted to observe Saraswati Puja and I thought of doing something special for them. I spoke to the villagers who allowed me to break the glass ceiling of social discrimination. In rural areas, performing pujas is thought to be the preserve of Brahmins. We tried to send a message that anyone can worship a deity," said Pritikana.
"Others offered pushpanjali as Chaitali recited the the shlokas in Sanskrit," she said.
Around 150 people had khichdi for lunch along with fruits and sweets. A group of tribal youths helped the children set up a pandal using paddy-straw and made arrangements for the puja.