Ganga destroys five homes at Pratapganj village in Murshidabad
According to residents the river started gobbling up land 200 metres away from the riverbank around dawn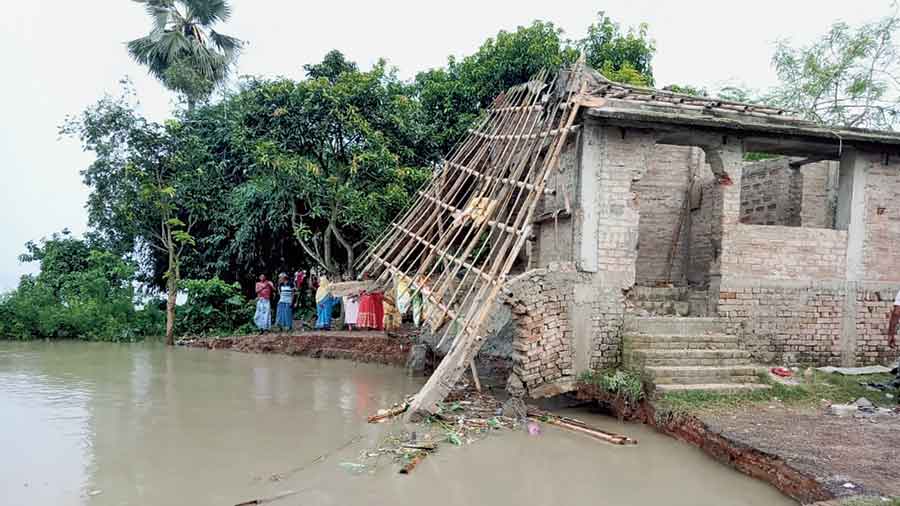 A house destroyed by the erosion of the Ganga's bank at Pratapganj in Murshidabad district on Tuesday.
Pictures by Samim Akhtar
---
Published 07.09.22, 02:49 AM
|
---
At least five homes were destroyed at Pratapganj village in Murshidabad district on Tuesday morning because of the erosion of the river's both banks.
Residents said the Ganga had started gobbling up land 200 metres away from the riverbank around the dawn.
However, local residents and block officials said they were "surprised" that the erosion had occurred at a spot, which was not among places where the irrigation department had set up sand bags to prevent the river from gobbling up land.
"At least 20 other homes as well as a Kali temple and the local ICDS centre face the risk of erosion. Several families have relocated to relatives' homes, along with their belongings. Others are trying to salvage whatever they can from homes that would be devoured by the river soon," said a Samserganj block development officer.
Eyewitnesses said the erosion had begun as early as 6am on Tuesday. All the homes lost to the erosion were concrete structures, including a two-storey building. The local Basudebpur-Kankuria road also reportedly faces the threat of erosion. It is a vital local thoroughfare for industries in the area.
Samserganj MLA Amirul Islam and BDO Bishnu Chandra Munda visited the site in the afternoon and arranged for shelter for the displaced families. Sources said as many as 50 tarpaulin sheets and dry fruit packets had been distributed among the homeless people. Block officials said sand bags were being placed in the area to thwart further erosion.
Most displaced families have been shifted to the Pratapganj Primary School.
"Given similar events last year, the irrigation department had taken up protective measures in the area but
Pratapganj had not been included owing to certain estimates. The developments today are unfortunate," said Islam.
Dhanapoti Das, Rohim Khan, Shujit Sircar and Santu Rabidas were among those who lost their homes.
Rabiul Islam owns two homes and one of them faces the erosion threat. "A lot of homeowners did not have time to even salvage their belongings. At least I am being able to do that," Rabiul said.