Gandhi statue to counter 'hate'
Sources in Trinamul attributed the move to a renewed focus on the Father of the Nation and his inclusive humanism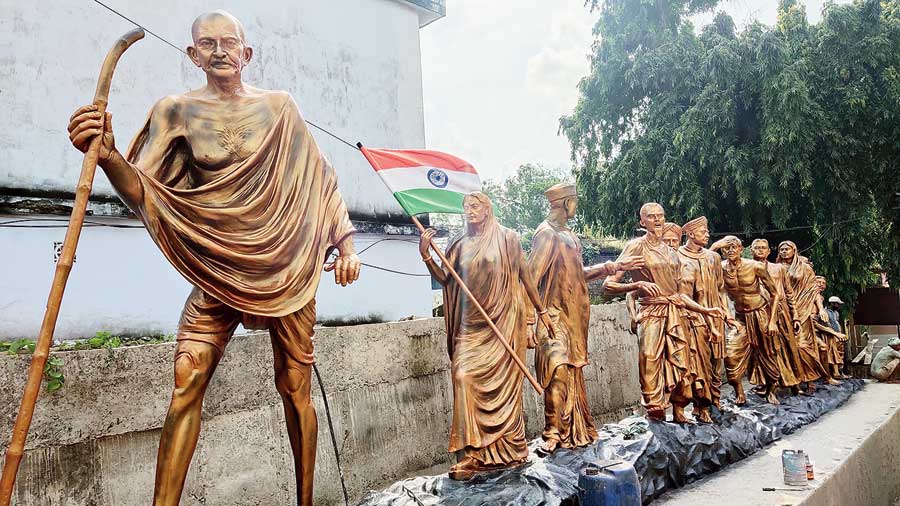 ---
|
Sainthia
|
Published 02.10.20, 01:57 AM
---
A Trinamul Congress-run civic body in Sainthia, Birbhum, spent around Rs 12.5 lakh on a statue of Mahatma Gandhi and a model of the Dandi march ahead of his 151st birth anniversary on Friday.
Sources in Trinamul attributed the move to a renewed focus on the Father of the Nation and his inclusive humanism in a bid to counter the saffron camp's propaganda.
Party sources said it was just one example out of many across Bengal, within a week of the bicentennial celebrations of another humanist icon, Ishwarchandra Vidyasagar.
Biplab Dutta, chairman of the board of administrators of the Sainthia municipality, said Gandhi stood for non-violence, brotherhood, amity. "These are important, now more than ever, in our nation being ripped apart by hatred and intolerance. The BJP has been trying to appropriate Gandhi, like so many other icons who stood against the saffron camp and its ideological framework, but they do not respect him," he said.
Trinamul, said sources, would use October 2 to remind people of Gandhi's views on communal harmony and underscore the differences between his philosophy and that of the BJP.
The Gandhi statue is a seated one, at the Union crossing area of the town. The Dandi march model has been set up near the town's Sashibhusan Dutta Girls' High School. The civic body spent Rs 2.5 lakh on the Gandhi statue and Rs 10 lakh on the Dandi march model.
Trinamul leaders said that the model of Gandhi's historic 1930 Dandi march against oppression and injustice were relevant in the BJP regime.
Asansol municipal corporation distributed complimentary copies of Gandhi's autobiography, The Story of My Experiments with Truth, last year. It will do so this year too.
"We ordered 6,000 copies of the book in English, Hindi and Bengali. They will be distributed among young boys and girls. At a time the BJP is trying to appropriate the icon while conveniently sidestepping the main beliefs he stood for, the book will help people understand Gandhiji better," said Jitendra Tiwari, Asansol mayor and Trinamul's West Burdwan chief.
Civic bodies in Arambagh in Hooghly, Kalna in East Burdwan and Rampurhat in Birbhum, will also host events on Gandhi Jayanti.
The BJP too has lined up events to mark the occasion in a bid to try and use it to drum up support for the controversial farm legislation passed by the Narendra Modi government. Bidyasagar Chakraborty, the BJP's Purulia unit chief, alleged Trinamul was "trying to mislead the people of Bengal" on the new farm laws. "We have planned a march with photographs of Gandhiji, in support of the legislation."