French boost for Chandernagore as heritage tourism destination
Under the memorandum of understanding, the French will do research and provide expertise in restoration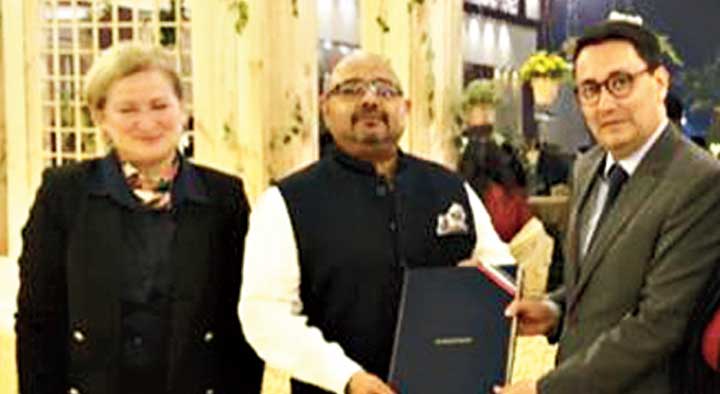 (From left) Consul general Virginie Corteval; tourism and home secretary Atri Bhattacharya and ambassador Ziegler
Picture tweeted by French ambassador Alexandre Ziegler after signing the MoU.
---
Calcutta
|
Published 07.02.19, 10:35 PM
|
---
Heritage and tourism in Chandernagore got a boost with the signing of a memorandum of understanding on Wednesday evening between France and the Bengal government on the sidelines of the Bengal Global Business Summit.
French ambassador Alexandre Ziegler, who was in Chandernagore to unveil plaques on three buildings enlisted by the West Bengal Heritage Commission, tweeted the event after signing the MoU late on Wednesday. "The agreement will initiate a very important revitalization of Chandernagor's Indo-French heritage," he wrote.
Speaking to Metro on Thursday, tourism and home secretary Atri Bhattacharya said: "We have signed an MoU to together explore ways to redevelop Chandernagore heritage. There are some buildings that are either government property right now or can possibly be acquired. The French will do research and provide expertise in restoration and we will see in what phases we can fund restoration of heritage precincts."
Ziegler said: "There is strong commitment of the West Bengal government. With the MoU, we have now created a bilateral arrangement whereby we will provide technical expertise. Specialists in restoring monuments will come before summer for the first visit."
The MoU mentions only the Registry Office, the former French courthouse, by name. It was one of the buildings where a heritage plaque was unveiled on Wednesday. An estimate of the restoration cost will be drawn up with the help of French experts.
The ambassador, on his fourth visit to Chandernagore, described the former French colony as "a jewel". "You have history, charm, proximity to Calcutta… the potential for tourism is immense. Demonstrating what can be done in one building can have a snowball effect. Through honouring the past we are setting up a dynamic for the town's economic development," Ziegler said.
With the twin objectives of the MoU being to preserve heritage and promote tourism, access from the river will get promoted. "The Strand will be rejuvenated. Most of the (heritage) properties are on the Strand, though a few are inside. There will also be further studies to identify which properties can be included in the project," Bhattacharya said.
"If we have a reasonable number of tourists coming in we would need more facilities. For that, it can't only be tourism. The urban development and municipal affairs department will have to be involved with issues like lighting, drainage and sanitation," he said.
The tourism department will also look at setting up some eateries. "Whether we have eateries on the Strand itself or have a vessel moored at the shore in which to run a restaurant are options we will consider," Bhattacharya said, adding that the potential of the river should be maximised.
App to be launched
A mobile app on customer feedback will be launched at the Bengal Global Business Summit on Friday. Named Hurray by the chief minister, it will allow customers to rate a service, be it hotel, restaurant, travel agency or tour guide.
"It's like a self certification. If they get enough good ratings, it helps them. Registration of tourism units is not compulsory. So we have no data. This app will provide us a mapping of resources available. For instance, homestays are mushrooming. We need to know where they are and how good they are," the tourism secretary said.