Forest officials step in to protect Buxa Tiger Reserve's big cat
The foresters released a picture of the tiger clicked on Friday night saying it was 'suspected' to be that of a royal Bengal tiger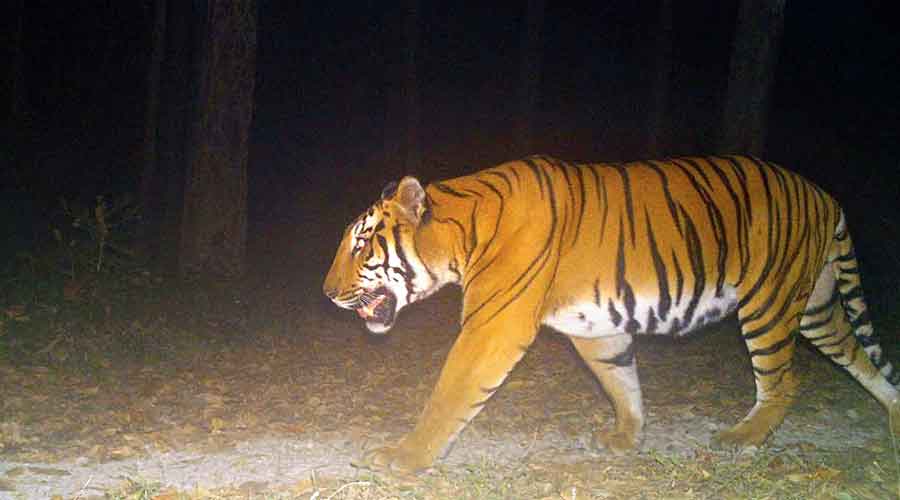 The second picture of the royal Bengal tiger clicked by a trap camera in the Buxa reserve.
Bengal forest department
---
Alipurduar
|
Published 13.12.21, 02:00 AM
|
---
The state forest department on Sunday said it had started taking steps to protect nature and wildlife at Buxa Tiger Reserve (BTR) after a Royal Bengal tiger was sighted at the reserve after around three decades.
The foresters released a picture of the tiger clicked on Friday night saying it was "suspected" to be that of a royal Bengal tiger.
 On Sunday, the department released a second picture of the tiger clicked by another camera around 3km away from the earlier site, confirming the existence and the species.
Reacting to this development, state forest minister Jyotipriya Mallick said: "We have stopped the jungle safari for tourists for the conservation and protection of the wildlife, which obviously includes the tiger. We need to find out if there is more than one tiger in the BTR."
Sources in the department said it has also been decided to engage more manpower in the BTR to intensify vigilance across the reserve forest area. A number of experienced employees and officers will be posted in BTR, said the sources.
"The location of BTR is  strategic as it shares borders with Bhutan and Assam. That is why we have to give impetus for protection of the tiger and other animals. Some poaching rackets operate in the Northeast. Earlier, we found their involvement in poaching of rhinos at the Jaldapara and Gorumara parks," said a senior forest official.   
The car safari, sources said, has initially been cancelled for next five days but may not resume after it, hinted the official. As of now, tourists can only visit Jainti, a popular site on the fringes of the reserve.
"We have formed two teams for round-the-clock monitoring of the reserve area. Members of the joint forest management committees have been put on alert. There are around 15 forest villages in the reserve and their dwellers can play a crucial role to protect the tiger. We have developed the prey base required for conservation of tigers," said Budhwaraj Sewa, the field director of BTR. 
As of now, there are 150 trap cameras in Buxa and 70 more would be put up here, he said. The reserve had come in for flak as tigers were not sighted here for decades. The National Tiger Conservation Authority a few years back had asked if Buxa should continue with the "tiger reserve" tag.
A few years back, it was planned to "reintroduce" tigers in the BTR from Assam.
"It is a relief that we have proof now that the tiger is here in Buxa. We have also thought of expediting the process of rehabilitating forest villagers who live in the core area, into fringe areas," said an official of the department.