Fliers stranded by Citizenship bill protests
All flights from Calcutta to Dibrugarh were cancelled on Thursday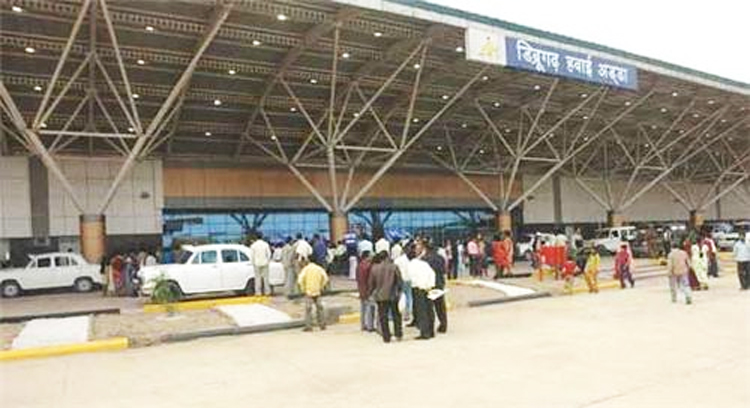 Dibrugarh airport
(Pic: Dibrugarhonline)
---
Calcutta
|
Published 12.12.19, 09:46 PM
|
---
Hundreds of passengers, including many Calcuttans and those bound for the city, are stranded at the Dibrugarh airport in Assam because of the ongoing protests against the Citizenship (Amendment) Bill.
All flights from Calcutta to Dibrugarh were cancelled on Thursday, officials at the city airport said. Two of the flights were of SpiceJet and one each was of Air India and IndiGo.
IndiGo, however, arranged a special flight to fly some of the stranded passengers to Calcutta on Thursday afternoon.
All flights from Calcutta to Dibrugarh will remain cancelled on Friday, too, because of a bandh called in Assam.
Among the Calcuttans who were stranded at the Dibrugarh airport is an IT professional from New Town, Sushant Kumar Das. He landed at Dibrugarh at 11.30am on Wednesday on his way to Orange Festival in Dambuk in Arunachal Pradesh.
"The main gate of the airport was shut and being guarded by security personnel. There was a protest outside and we were told not to step out," Das told Metro on Thursday evening.
He got in touch with Arunachal Pradesh government officials, who advised him to take the bus that had left Dambuk for Dibrugarh in the morning and would make a return trip in the evening.
"I was in touch with them. At one point they said the bus had been stopped midway through the journey. Around 6 we got to know that there would be no bus on Wednesday and we would have to wait till Thursday morning. The protests had stopped by evening but there was curfew," Das said.
"The CISF and army personnel at the airport said we could step out at our risk. The army men gave us food," he said.
After learning that internet would be shut down in Assam, Das booked a ticket to Calcutta for Thursday morning. "But no flights were flying in or out," he said. Indigo finally rescheduled a flight from Dibrugarh to Calcutta, which took off at 3.30pm.
Rajib Bonia, 24, and his friend reached the Dibrugarh airport at 10pm on Wednesday for a flight to Calcutta that was to leave on Thursday afternoon. Bonia is to fly to Singapore from Calcutta on Thursday night.
"The SpiceJet flight was to take off from Dibrugarh at 12.10pm. We reached the airport the night before to avoid being held up by protests.... At 8am today we learnt that the Calcutta flight had been cancelled. We then booked an IndiGo flight," said Bonia, who lives in Dibrugarh.