Five die as rain flattens homes in West Midnapore
While many parts of Bengal were lashed by rain, coastal areas of twin Midnapore districts bore the brunt, with over 20,000 houses destroyed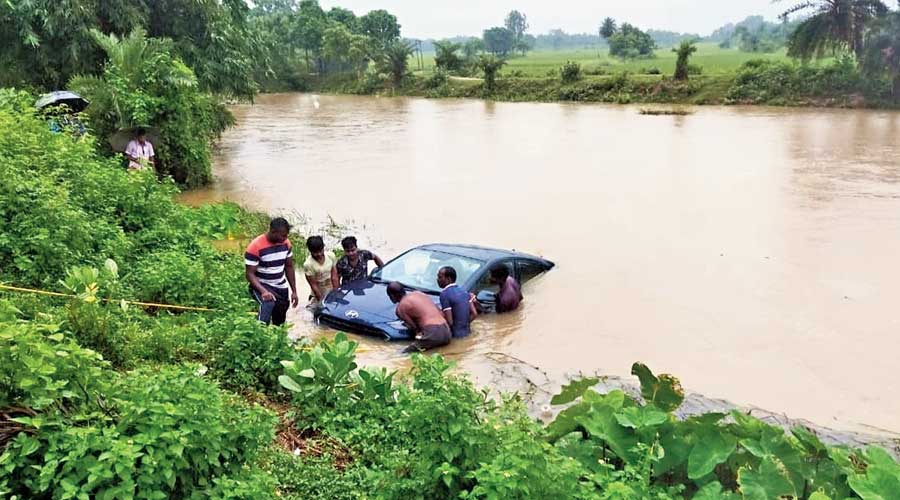 ---
Tamluk(EastMidnapore)
|
Published 16.09.21, 02:18 AM
|
---
Five persons were killed in West Midnapore on Tuesday night amid heavy showers triggered by a low-pressure formation over the Bay of Bengal.
While many parts of Bengal were lashed by rain, coastal areas of twin Midnapore districts bore the brunt, with over 20,000 homes destroyed. 
In West Midnapore's Keshiari and Kharagpur, five people died as their homes collapsed on Tuesday night. The deceased were identified on Wednesday as Arun Shant, Bijli Patar, Kohinoor Bibi, Rakhal Hembram and Ahallya Sai.
In East Midnapore's Ramnagar, Class VI student Madhumita Sahoo was purportedly bitten by a snake in her flooded home on Tuesday night. She died on Wednesday morning at a Contai hospital.
"Some 20,000 homes in West Midnapore and 700 homes in East Midnapore have been irreparably damaged in the downpour," said an official.
"Five persons were killed by rainfall-related (home) collapses in this district. We are assessing damages," said West Midnapore disaster management official Sandip Biswas.
In East Midnapore, district magistrate Purnendu Majhi said the rain had exacerbated lingering damage from Cyclone Yaas in certain areas.
Heavy rains also inundated several parts of Midnapore town, in addition to fields and settlements in and around Chandrakona, Daspur and Ghatal. 
The railway line near Godapiyashal village in West Midnapore's Salboni submerged and partially disintegrated.
The Salboni-Adra line was closed as a result. A car near the area was submerged in an overflowing pond. Bystanders rescued the driver.