Fisherman rescued from tiger's jaws in Gosaba
The victim was saved by his companions who fought with the animal with bamboo sticks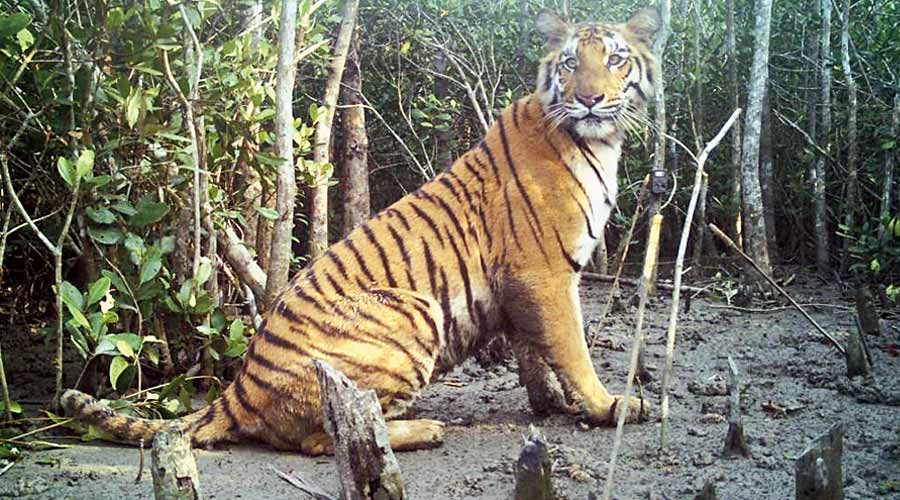 ---
Bolpur(Birbhum)
|
Published 03.10.21, 02:41 AM
|
---
A 37-year-old fisherman was severely injured by a royal Bengal tiger in Gosaba area of the Sunderbans in South 24Parganas when he, along with four others, went to collect crabs from a restricted area of the Sunderbans Tiger Reserve (STR) early on Saturday.
Fisherman Gour Mistri was rescued from the jaws of the tiger by his companions who fought with the tiger with bamboo sticks for around 10 minutes.
Gour was admitted to the Canning subdivisional hospital with critical injuries on his head, shoulders and neck and was struggling for his life.
"The group of fishermen went inside the restricted zone illegally to collect crabs from the wetlands when the tiger attacked one of them. Though they had made illegal entry into the forest we arranged treatment of the fisherman on humanitarian grounds," said Jones Justin, the deputy field director of STR.
Foresters said the trend of going to the forests without permission has increased in recent days following job losses during lockdown. As a result, incidents of tiger attacks have also increased in recent times.
On September 3 another fisherman was injured by a tiger as his coworkers battled with the big cat with oars of their boat to save his life
On August 24, a group of fishermen were ambushed in Gosaba's Satjelia by a tiger, who dragged one of them off the boat. That incident had taken place on the heels of another incident in Jhila, where a lone fisherman had been killed.