Fear of watermelon waste in Bengal due to the lockdown
Local politicians also said that if the fruit is not merchandised in time, thousands of farmers would suffer losses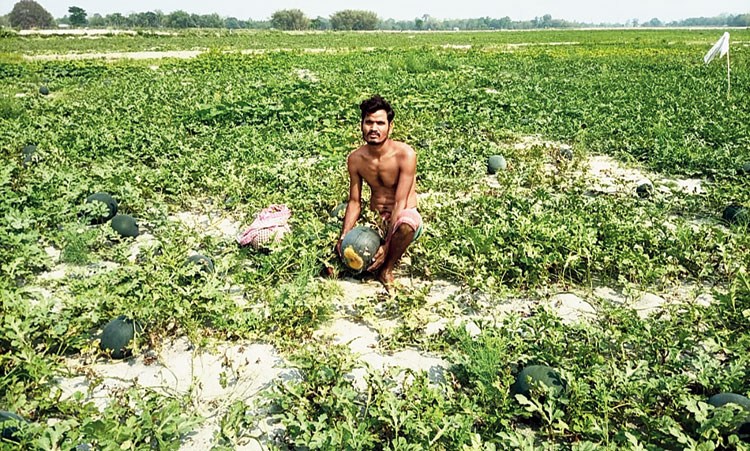 ---
---
Over 5,000 watermelon farmers in Cooch Behar are fearing losing most of their produce as wholesale traders have not come to buy the fruits because of the coronavirus-induced lockdown.
The farmers said the watermelons were ready for harvest and that 70 per cent of their produce could rot in the fields if no buyers turned up during the lockdown, which is to continue till April 14.
Around 100 metric tonnes of watermelon are cultivated in the Cooch Behar, Mathabhanga and Dinhata sub-divisions of the district. Every year, the fruit is harvested in the beginning of summer and much of the produce is sent to other states.
"We get buyers from other states every year. But this year, because of the lockdown, the buyers are not coming. I have cultivated watermelon on my eight-bigha plot and the fruit is ready for harvest. I am keeping my fingers crossed because if the buyers do not come, the fruits will rot in the field," said Naresh Burman, a farmer in Mathabhanga-II block.
Local politicians also said that if the fruit is not merchandised in time, thousands of farmers would suffer losses.
"There are many farmers in Mathabhanga-II block who are mostly dependant on watermelon cultivation and a major portion of their annual earnings comes from this. We understand their problems and think the administration should look into it as fruits and vegetables are out of the purview of the lockdown," said Umakanta Burman, the sabhadhipati of the Cooch Behar zilla parishad.
Sudhir Burman, another farmer who has cultivated watermelons on a six-bigha plot, said: "We are getting only a handful of local buyers. Buyers from other districts of our state have not been able to come as public transport is not available. The production is much higher than the demand for watermelons in Cooch Behar district. If buyers from elsewhere do not come, we will end up with losses."
Debanjan Palit, an assistant director in the agriculture-marketing department, said officials had spoken to some buyers in other districts of Bengal and also in neighbouring states.
"We have told them that they can come to Cooch Behar along with vehicles, buy watermelons and take them away. We will ensure that they do not face any problem. Also, the farmers can contact their usual buyers and pass on the same message to them," he said.